This morning I get to show you the Rose Leaf socks that I've been designing…
These socks are made from Filatura di Crosa Millefili Fine, a very thin, fine cotton with a natural sheen. They make many, many solid colours from bright to pale, but I chose a variegated skein with lavender, rose, and a little tangerine in it. This was the colour of the roses in my back yard and looked stunning in the ball. When I knit it up, the tangerine colour became more dominant, which is too bad, but I still like them! It took a little less than one ball of yarn for each sock.
This photo shows the colour most accurately. I designed this as I went along, but I did make notes, so when I get the little glitches worked out, I'll write up the pattern…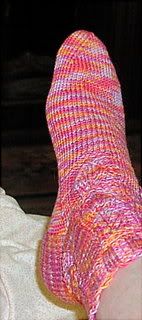 As you can see, I made a cuff-down sock with the regular flap-and-gusset heel and a star toe, which is nice and easy and good-looking, but best for very narrow toes. I've been using toe-up with short-row heel exclusively for 6 months now, so going back to the "regular way* really tested my memory!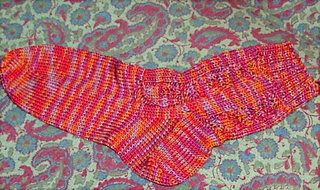 I'm going to try my pattern again with this yarn – Seacoast Handpainted superwash merino in Desert Rose. It was expensive, but I made it a present to myself for figuring out this pattern!


"I am interested in art as a means of living a life; not as a means of
making a living." - Robert Henri

The amount of money one needs is terrifying.
- - Ludwig van Beethoven

"The trouble with being poor is that it takes up all of your time."
Willem de Kooning

"My God! How terrible these money questions are for an artist!" - Paul
Gauguin