I've finally been able to reconnect with my digital camera and so I can show some FO's from my knitting! I'm so excited! All of these are from weeks ago - the sweaters from back in February...
This first photo is of the sweater that I designed for my sister with Plymouth Baby Alpaca Grande - slightly less than 2 skeins - in light ice blue. Its incredibly soft!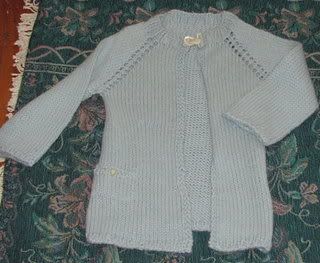 My sister Jule has a lot of specific things she likes in sweater - I made it hip length, 27 inches long; I made the sleeves long, too, to 3/4 length; I added a little pocket, with a little button, so a card or ticket won't fall out (my sister often doesn't carry a bag). Isn't it a cute little button? I bought it at the Brimfield antique fair with my friend Mark - its a porcelain button with a handpainted rose on it.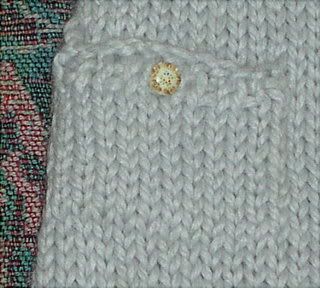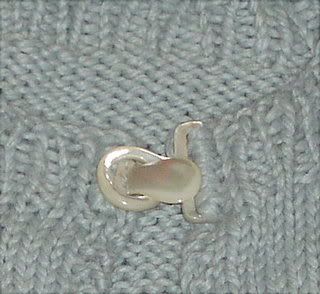 The clasp at the neck is a vintage mother-of-pearl clasp that I found at the thrift shop for $5!! what a great find...and my sister loves it. I have a picture of her wearing it, but its in a disposable camera that isn't full yet, so...later.
This second sweater - the raglan T-neck from Magknits - was also for my sister. It was such a fast knit! I used Debbie Bliss Cashmerino Aran and lengthened the sleeves to 3/4 length... It's very flattering - just form-fitting enough without looking too tight.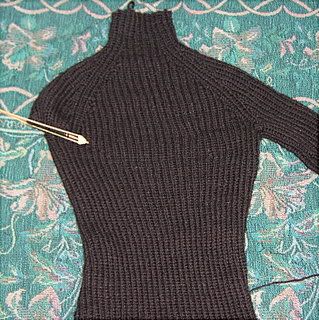 This last photo shows 3 pairs of socks I made for friends:
The Lavender ones are my own Van Helsing design that I showed you earlier, made with Cascade angora wool with a little nylon for strength. They look so much better on her feet!
The yellow ones are a vintage spiral rib heeless sock. I used the Cascade angora again, and paired it with a cheerful orange nylon reinforcing yarn so the heels and toes wouldn't wear through when Holly wore them. I meant them to be worn with Crocs, but I think they are a bit big for her, so she's wearing them as comfort socks...
The blue ones were knit with 2 skeins of Australian Pear Tree merino wool - so incredibly soft! I loved working with this yarn! I used the leaf lace pattern from Favorite Socks, modified a bit.... This was my first pair of toe-up socks, so I made a little mistake on the first toes, but everything else came out well, I think! These were for Mingbutterfly.
So that's it for now. There are more, but I have to take more pictures!