Or… what does this: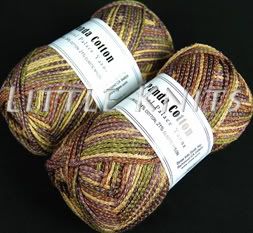 Have to do with this:

Well, one is called: "Chocolate Almonds" and the other is called "Chocolate-covered-Almonds"!
The yarn was just sent to me by Julie. It is Panda Cotton by Chrystal Palace. When I saw this yarn at various online stores, I assumed that it would be thick, similar to Cascade Fixation – the yarn I used for the Peaceful Feelings yoga socks. But this is a very delicate, fine yarn – fingering weight like the best sock yarns, and yet it still has the soft, cushy feel that the little bit of elastic gives! I think it will be a favorite sock yarn now! I can't wait to try it out...
And, as for the riddle: when I was very young I had two guinea pigs. One was called "Chocolate Covered Almonds" and one was called "Bullwinkle Baby".
Bullwinkle Baby looked like this:

My new yarn reminds me of Chocolate-covered-Almonds!