My friend Mark has received his gloves in the mail, so I can now post photos of them. This is what they looked like when they were finished: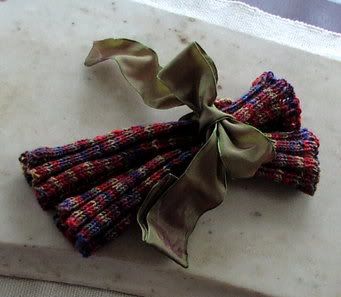 But - magic! They open up to fit almost any size hand (mine are illustrating the small size....)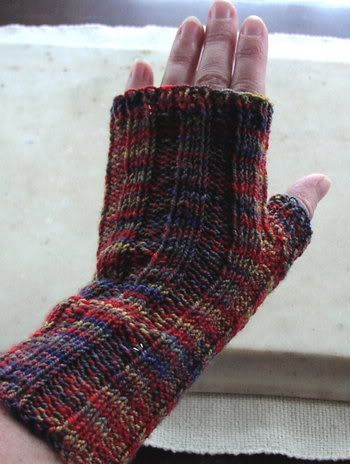 This pair was made from one skein of Koigu Painters Palette Premium Merino (one of my favorite yarns right now, although my LYS is seriously out of it until the fall). Marky says he will take a photo of them on his hands. I'm really anxious to see how they fit their intended recipient!
I love making fingerless gloves, and have designed four pairs now. I've written them up to submit to one of the on-line knitting magazines....sometime...
Here is the pair I made for the Professor (it seems like a long time ago now, but I think it was a year ago)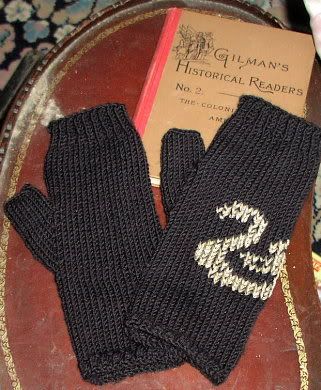 and here is the pair I made for another blogging friend last winter. They have rose leaves on them, circling the wrist. I really love them, but I think I could do better and have plans to refine this design... Both of these pairs were made with 2 skeins each pair of Debbie Bliss Baby Cashmerino yarn (merino and cashmere).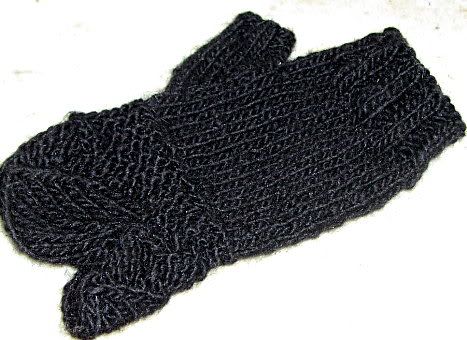 This pair I made for my Silver-Apples website. But I think if I make them again, I'll re-design them... I made them in pink and another pair in black. That's a little skull on them, not an alien head! These were made with two balls of Balzac wool, which is a dream to work with...
I've been dreaming about knitting, and planning knitting, and designing knitting, and visiting yarn and antique stores and yarn websites... I found some vintage stitch markers for my friend Nad, who can't get funky knit accessories in Germany, and I found two silver ones for myself!
Its also been very important to mark the natal milestone of my very important friend who turned 17 yesterday!! Yes, that's right, it is... (drumroll please)...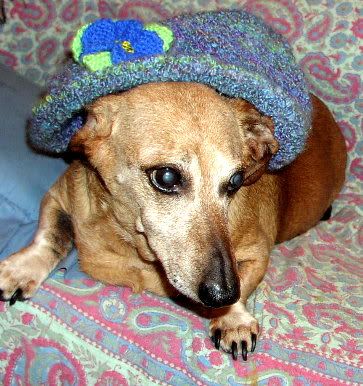 SAUSAGE
Happy Birthday, Darling!