8/20/06
7:10 AM
Rain song
This is my world on this Sunday morning.... I have just come in from walking the dog, a blue raincoat over my nightgown, and the hem tucked into my big L.L. Bean boots (for walking through puddles). I carry a huge stadium umbrella that will cover Sausage and my head, though its not quite wide enough to shelter the back of me and I am as wet as though I sat in a stream...

Rain Song

Let the rain kiss you.
Let the rain beat upon your head with silver liquid drops.
Let the rain sing you a lullaby.

The rain makes still pools on the sidewalk.
The rain makes running pools in the gutter.
the rain plays a little sleep-song on our roof at night -
And I love the rain.

~Langston Hughes
This is the view outside my front door:
I am inside now, and Sausage has been dried with his special towel and fed and is tucked up cosily on the couch - already asleep and snoring - dreaming of cats and dinner and being couragous when the big German Shepherd walks by the house!
I'm ready to watch that old movie
"An Affair to Remember"
with Cary Grant and then
"Under the Tuscan Sun"
(which makes me feel like I should move away somewhere and start a new life)and knit on this new and wonderful project:
These are spiral socks - I am making the pattern up myself, inspired by the Art Yarns spiral socks my friend Nadine made (http://nadsknittingblog.blogspot.com/).
I am using Rowan Cashsoft Baby, which has 12% cashmere in it, but I am combining it with Kid Seta - one of my most very favorite yarns, I 'd like to have this yarn in every colour! - which is a very fine spun mohair and silk, together. The resulting fabric is soft beyond belief. These will be some comforting socks!! And I think the world can be harsh and scary at times... and a struggle at others... so we should bring as much comfort into it as possible with what we can do... (<--- my excuse for buying knitting things!)
The yarn in the photo, beside the new socks-in-progress, is Seacoast Handpaints (made right here on the coast of my state). As you can see, that is a beautiful and delicate soft yarn too. At the moment, it is destined to be a shrug to match the socks...in a lace pattern, but warm.
Yesterday brought another surprise gift to my doorstep (and this time the postman was very careful to place this package marked "fragile" very delicately in the shelter of the step).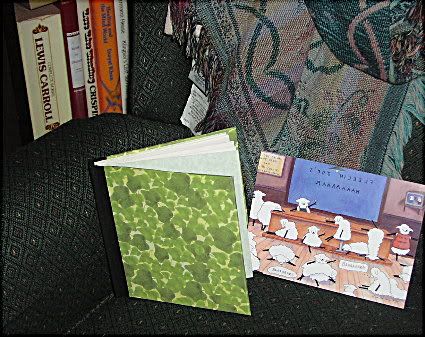 It was the most beautiful handmade book with an Ivy cover and creamy parchment-coloured pages, made by a blogger friend to whom I had sent some vintage forest green wool yarn for her birthday. She is so talented!! And the funniest thing that I must tell you about is the Thank You card! Can you see it there in the picture? It shows "Fleecin' Joe's Baaaaaar" which is full of sheep in various stages of drunkenness and on the wall is a sign that says "don't drink and herd! call 1-800-collie for free driving service". Inside the card reads "Many, Many Tanked Ewes"!!