Last night my LYS had a Knit Fashion show! The first of a series, the intention was to show the creations that had been designed by the Ewe staff, talk about how the design happens, and let us – their knitting devotees – experiment with how they would look on us. Marcie, the Ewe's owner, Kelly and Dee warmly welcomed each of us as we arrived. There was homemade fruit bread, brownies, chocolate chip cookies (Yum! These knitters can cook!) and hot coffee. Marcie brought out the full coffee pot with a grateful sigh after struggling with an inexplicable coffee explosion in the back room (don't worry - no yarn was harmed in the making of this coffee!)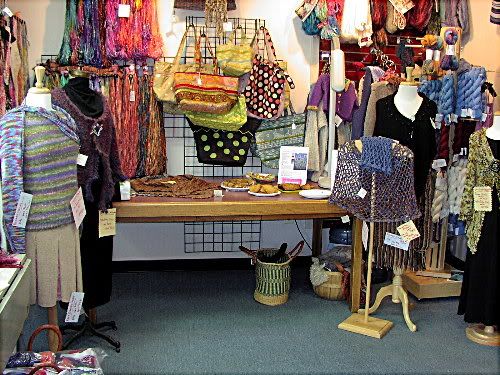 The staff of the Elegant Ewe is unique in that all are knit and crochet designers. Whenever you visit, at least one of them is at work on a new idea – and usually all of them at once!
Marcie's gorgeous designs are intricate, careful and accomplished, though not beyond the beginning knitter who is willing to learn. She is inspired by the fashion world, by traditional patterns that are inaccessible to most of us, and by the knits that she sees at wool shows. It doesn't have to be a knit design; if she sees a garment that speaks to her, she will spend hours working out how it will translate into a perfect combination of stitches and motifs. She researches gauge and stitch patterns, changing how they are done to get just the effect she wants. She ends up with exquisitely beautiful garments that shape flatteringly to any body type. She works her designs so that once-difficult effects are achieved through clever but easily learned techniques. Marcie's various Gansey designs are a good example of this.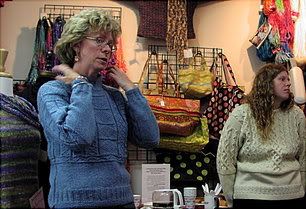 Kelly said that she has knitting designs running constantly through her mind's eye and carries a design notebook to quickly jot or sketch her ideas as they occur. Anything will inspire her - a new yarn, a yarn that is sitting, underappreciated, a season, or a fashion she sees on someone else. All of these things spring into full-fledged exuberant creative designs in her knitting imagination. Then she works them out more thoroughly in quiet moments. She is a true artist whose medium is knit, and she's not afraid to try something experimental, like her skirt that combines knit and crochet.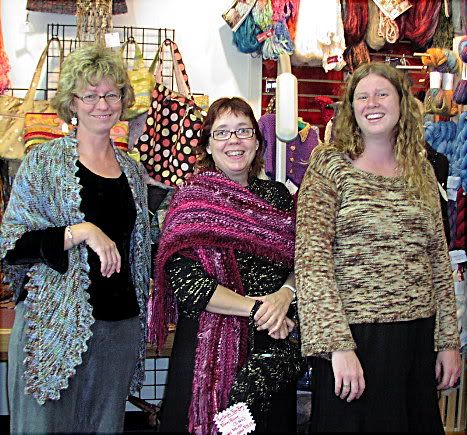 This photo shows Marcie in her Thanksgiving Shawl in hand dyed alpaca, Dee in the Multiple Yarns Wrap, and Kelly in her bell-sleeved Witchy Woman sweater, also in hand-dyed alpaca.
One of Kelly's designs, her Grandmother's Raglan Sweater, has a wonderful story to it. When Kelly was growing up, her grandmother knit a raglan sweater for her every year, each one different – one would be a cardigan, one would have stripes, one would have patterns on it, or cables. When she was in college, she wanted to learn this herself, and her loving Gram recited her own pattern over the phone to Kelly. Like a family recipe, it was very vague and flexible – "a little of this, a pinch of that" – but over the years Kelly worked it out and worked it up into designs that we now treasure. One of her versions has rows of five-pointed stars around the rim, a design, she said, that came from her favorite game as a child – playing "camping out". Her grandmother wove tales of the night sky as though they were camping under the stars, and so this knit sweater is a fitting tribute to that childhood memory.
Dee is a master at crochet and, although she can and does knit beautifully, crochet is her first love. The Elegant Ewe has begun offering crochet lessons and designs due to Dee's enthusiasm and her creations can be seen throughout the store. Dee talked about her Fabulous Fan Bag, a vintage-looking design that was inspired by the movie Memoirs of a Geisha.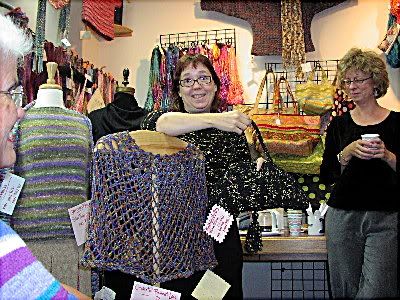 Here, Dee shows her Fabulous Fan Bag, (which just happens to match her hand-knit blouse!), and Marcie's Crocheted Capelet.
This evening of fashion a la Project Runway for Knitters was so fun and we learned so much that we can immediately apply to our knitting! We were treated to explanations of how to place designs and motifs to flatter each body type, how to choose yarns to suit the patterns and how to change the look of one pattern just by using a completely different yarn.
For that one night, the yarn for any of these projects was 15% off, and the pattern was free! And, those of us who wore a Ewe-designed creation made from Ewe yarns received a goody bag that contained 3 balls of yarn (one of which was the fabulous Louisa Harding Kimono Angora) and two patterns! I wore the side-to-side shawl in a turquoise that I think looks like the tropical waters (modeled by my friend, Emily, below, while I took the photo) and I called it my Seawave Shawl. It's made with a variegated ribbon yarn and Kid Seta in mohair and silk. There were many stunning creations, such the fingerless mitts, done in Noro, the cleverly shaped hat, and the Simple Shawl (that is not-so-simple-looking in its lovely hand-painted yarn!).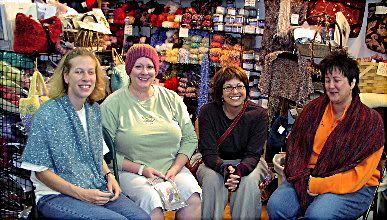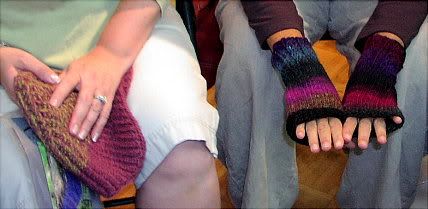 We all came away with some fabulous projects and yarns to add to our stash (I picked up the Scribble Shawl – a Kelly creation – in marine blue, and the Eyelet Wristers in Kimono Angora variegated browns and blacks) but Heather is the winner! Here she is, beaming with delight, with an armful of gorgeous hand-painted lavender and magenta fibers for Kelly's "Grandmother's Raglan" pattern. Minutes later she picked up another stash of the Ewe's own line of wool in heathered lavender, for a second sweater – and a matching one for her baby son – from the same pattern!