Yes! Today! The Yarn Swap Box is on its way to Germany! Many New England yarns, unique and handpainted, will find a new home with Nad and the colourful chickens.... here is just a little hint of the 7 lbs of yarny goodness now on an airplane across the seas: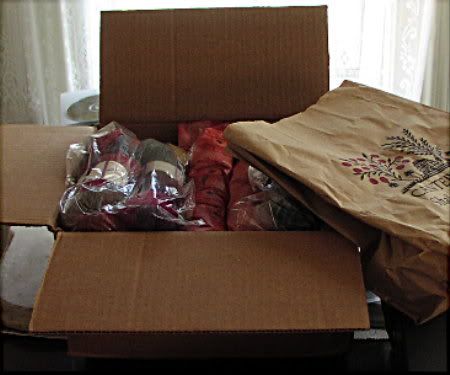 I hope I get to see the wonderful things my swap friend will make with them!
Exciting news - I've mastered the "magic toe-up sock" method! I'm working on John's socks!
I've been spending a long time looking at still photos from Narnia so I can examine the knits in the movie. Lucy's little green/brown knitted cloche hat is what I really want to make - the one she wore on the train! Her coat was darling too. I read that the costumer researched the 40's to find typical patterns and also had vintage-looking materials woven in Australia especially for the costumes. The kid's clothes were made a little small or made to look altered from a larger or smaller size because in the war years new things weren't bought - but new things were made from old things. I remember (well, I wasn't there, but I remember hearing the story - you know what I mean) my Grandmother made a little baby dress for my mother out of her honeymoon suit, which was heavy brown velvet with handmade ecru lace, made in France. My mother had me wear this when I was a baby, too, and carefully laid it away for me. But it disappeared by the time I was old enough to look for it. Somewhere there's a photo....