yesterday I finished the second black shrug - this one from Berroco Zen - a cotton tape yarn... I really love it! I made picot edging along the sleeves and hem instead of ribbing, so its different from the first one. The collar isn't exactly how I wanted it though - I just couldn't figure out how to do picot edging and short rows at the same time! The sleeves on this one are a little longer too.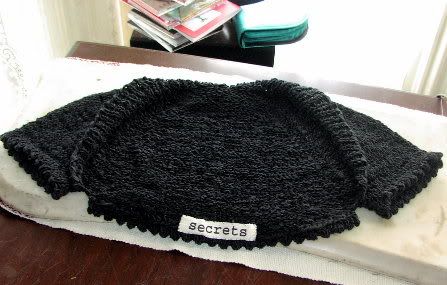 The label is from some printed tape I got at a scrapbooking store. I'm not into scrapbooking at all, but I went with a friend who is and looked for things I could use with my knitting!
I think I'm done with this pattern for awhile... I have a new Dalegarden pattern for a mock-turtleneck with a little lace edging that I'm dying to try. I found a few balls of Svale yarn (black, of course) for it...
BTW - I also finished Marky's Koigu gloves but I won't post a picture until after he receives them in the mail... slow boat to Australia!