It seems like a good time to talk about the current WIPs! It happened this way:
I have a certain kind of summer socks that I really like. They're not, I'm sorry to say, hand knit socks. They are a cotton and elastic combination that are very soft and stretchy and good with my Merrell summer sandals. I found a store when I was in Bar Harbour that had several pairs of these in their sale basket and I stocked up. Recently, as I had my ankles crossed and propped on the hassock, my bf remarked "
why is the Knitter wearing holey socks?
" Yes, they had split at the gusset seam and my entire heel was un-socked! I switched to the next pair - same problem; and the next - same thing happened within a week!
Finally I awakened to the ultimate truth: I should knit some summer socks for myself.
So here they are:
It's A Fish
, in Crystal Palace Panda Silk, my own pattern: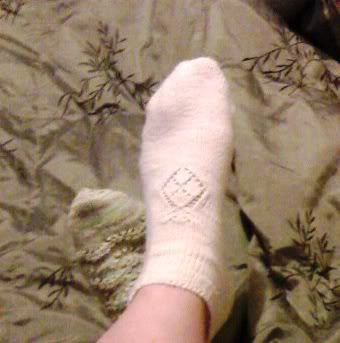 and
Kaibashira
, in Tofutsies (I thought it was ironic and funny that the yarn has an element of Chitin - a fiber made from shrimp and crab shells - in it, and the pattern is styled after the scallop used in sushi):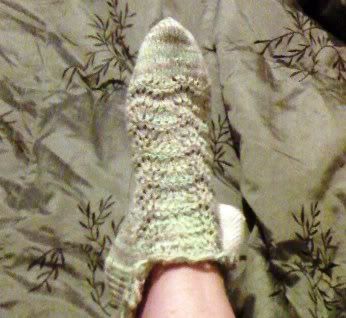 I have to say that I rarely knit for myself so I'm having trouble finishing these. One of my tricks on myself is to knit two patterns at the same time, alternating socks, so that I don't get bored. Consequently, I have two different finished socks and two different half finished second socks. At the same time, I'm knitting a winter hat, a summer sweater, a lovely silk scarf, and a long, high-investment shawl (vintage pattern).
Have any of you started your Holiday knitting yet? I have plans - oh yes, I have plans. But my plans are always much bigger than my time, so we'll see what happens.