I'm getting more and more excited about this weekend's Sheep & Wool Fair! Wool! Wool! Wool wool wool! Yarn! More yarn! More Sheep! More Llamas! More Angora bunnies!! Oh, and more Yarn!
Last year one of the booths had a few antique knitting items, and I bought a celluloid stitch holder which I've so enjoyed using. Like seashells on the beach, a Sheep & Wool Fair can wash unexpected treasures up into your hands. In cases like those, you are almost certainly obligated to purchase said treasures. No, really. Its like a pact with the Universe. The Universe brings good things to you. And you accept them. Right?
My plan is to focus on sock yarn this year and not just run amok amoung the fibers buying willy-nilly as I usually do. I have been putting funds aside for this for some time so that my happiness will be unalloyed by buyer's remorse when bill-paying time rolls around!
I actually have plans for the yarn I buy. These are the patterns that are on my list for myself, when I am finished with the socks for you.:
First up, the Spring Grass Socks:
What a beautiful green colour! In a fairly light yarn, these would be so comfortable.
Then, by the same blogger, the Orchid socks: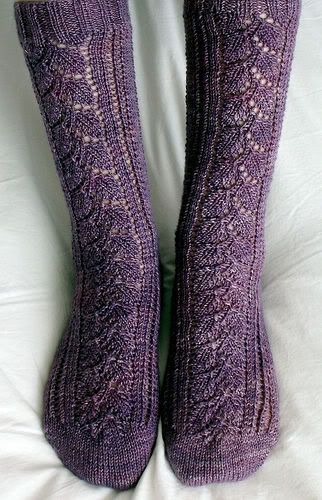 Next, and I hope to branch out into some brighter colours for these – although it will take courage on my part to do so – the Diamond Lace Socks: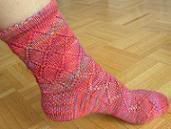 After that, just for a break, a pair of simple tube socks in a really soft, thin yarn (thought I'll make mine in a single colour, not striped - probably dark blue):
And finally – for summer – to wear with my straw flip flops that are my constant house shoes from June through September -
FlipFlop Socks!
All things are coming along very well with your socks. I can't decide whether to start mailing them out, or whether to wait and send them in one great mailing so I can imagine you all opening your boxes at the same time, all around the world, like lighting one candle from another, then another! What do you think?
Just teasing… the first two pairs will go out soon, and then the rest, two pairs at time, at 10 day intervals probably. Since you'll likely wear them in the fall, you don't mind, do you?