Yesterday I ventured into the wild back country of my state to do a presentation at a small rural school. Aside from being plagued at every turn by Road Construction, which is the summer playtime of our wise state bureaucrats, I have the World's Worst Sense of Direction. Truly. I travel 5 minutes from my neighbourhood and I am in what my directional sense considers
The Wild Country
, resulting in complete shut-down and confusion.
I am the type of traveler that GPS systems were made for...that calm, soothing voice that says
"turn LEFT at 200 feet onto Surrey Road."..... "TURN LEFT!! at 20 Feet onto Surrey Road." "TURN LEFT! TURN LEFT! TURN LEFT NOW!".... .... ...."recalculating....recalculating...." "Turn around and retrace steps to Surry Road. Turn Right at Surrey Road."
However, I don't own a GPS system. I rely on my keen sense of, of, of...
acceptance
of my bad sense of direction... in other words, I'm used to being lost and I know that if I just keep going, I'll eventually get somewhere. anywhere. It's always worked before. And besides, I get to see a lot of countryside, a lot of new unfamiliar cities, and meet a lot of nice people. And if they're not nice, they're interesting.
ahem.
On this particular journey, I eventually ended up in a lovely college town that had a stunning bakery (cherry tarts and Orangina for lunch, which is why I'm having cottage cheese and nothing else for lunch today) and a huge antique store and a well-run and fully stocked book store.
At the antique store, I indulged in my penchant for vintage buttons and - as Providence would have it - the store owner had just received a huge supply of unused old store stock buttons of the 1940's! They were made from vegetable ivory which, I think, was influenced by the World War, and some of the button cards had German eagles on them. The store owner thought they were terribly ugly and sold them to me inexpensively (that was great) and I bought boxes! Each box had 12 cards inside. I got Big Coral ones and Big Blue ones and small green, teal, and coral ones and one box of unusual and fabulous pale green pearl buttons on silver cuff studs. Some of course, are for Marky, who is even crazier about buttons than I am, and some are destined for my vintage-style knitted sweaters.
And... just in case I didn't have enough knitting books or knitting patterns, the book store in this town had a sale table of used books and I got this: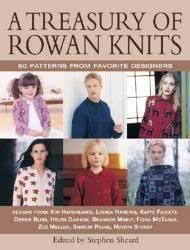 A wonderful old Rowan collection with lots of patterns from Kim Hargreaves, Martin Storey, Debbie Bliss, and Lucinda Guy..... this cover shot doesn't really do the book justice - its a huge book for one thing, and the designs are stunning and classic.
and this: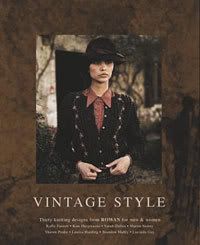 which Rowan recently re-published with a different cover.
The Vintage knits one has 30 wonderful patterns like: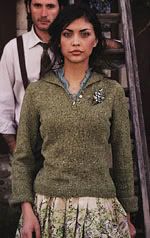 and these two, made from Kidsilk Haze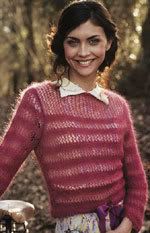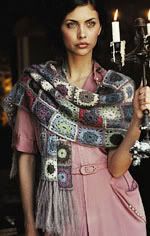 I am happy. Do you think the Universe is conspiring to keep me knitting? How is it that I come upon such wonderful bargains and surprises? Does my Guardian Angel knit??? that is the only thing that would explain this.... I venture into the wild for work, get horribly lost, and find wonderful things, have a marvelous lunch on a beautiful day, and am happy, though tired... who would figure?