Ah...the Annual Sheep & Wool Fair. All sheep, all the time! I just got home from my wooly travels and must tell you all about it! Sorry this is long...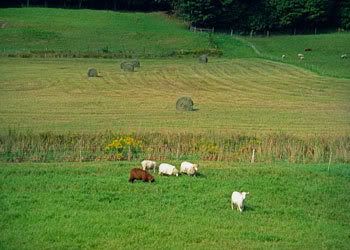 At 8:30 am I left my house to travel half an hour into the country to the Fairground. When I got there, the gates weren't open yet, and the few early birds had qued up by the side of the road. I took my place, and shortly the gates to the parking fields were opened. Like the civilized fiber artists that we are, we nicely took turns driving onto the dirt road through the woods that would lead us to the mecca of beautiful fibers, where the cutthroat clawing and grabbing would occur....
After parking, I walked on the path through the dark, cool woods, and over a wooden bridge that spanned brackish water edged with emerging fern, up the pathway to the fairgrounds. I felt so happy and care free. I had a big canvas tote bag under my arm, and comfy Nikes on my feet. Oh, Rats!! I forgot to bring a bottle of water! oh, well, doubtless there would be vendors, and I could buy one for an exhorbitant $5 if I really needed it.
When I stood in line, I could see the booths all open across the fields, waiting for the early few. There were only about 20 people who had entered at that time. I felt like I had a serious advantage. And that turned out to be true! Zellinger's was the first booth. They are a New York state company that processes fiber for small farms that can't invest in the expensive equipment themselves to clean and spin and even dye the wool from their one or two sheep or alpacas or ...buffalo. yes! Buffalo! It turns out that one farm had a buffalo and they traded some of the down to Z's. Buffalo down fiber is like gold and even more expensive. Its $50 for 50 grams when you see it in the stores. Because the down is combed from the animal, not sheared, its scarce, but very soft and clean. Z's was selling 3 small skeins for about $6 an ounce!!! And because its fluffy down, and ounce is a lot. I snapped up all three - I was the only person there looking for yarn, everyone else was there to either sell their fleeces, or to deliver them to be processed and returned. When the owner saw me with the yarn in my hand, she called out across the field, "she's buying the buffalo! there's the lucky lady with the buffalo!! Come right up here - don't stand in line!" I was so embarrassed! but happy. definitely happy.
When I left that first booth, I saw a friend of mine sitting waiting for her friend to arrive and we chatted for a bit. I told her about the buffalo I had so fortuitously scored, and she said that she hadn't wanted to go to the fair with anyone else because she didn't want to lose any friends by ripping the yarn from their hands in an acquisition frenzy! Yup. We're a pretty intensely obsessive bunch. Please join the club. Craziness loves company.
Up the hill from there, I came to the alpaca barns.... I bought yarn from this handsome young man: Cinnamon Spice -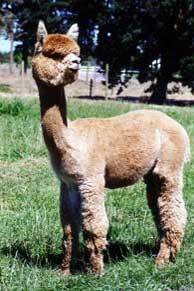 He won a big first place for his coat at the competition! And his owners said I could visit the farm sometime and pat him. His yarn was only $7 a skein. But they only had 1 and 1/2 skeins of it. So I got that... Here is some of the yarn from his brothers and sisters. his was a bit different colour...
It all gets a bit foggy after that. Five hours later, I was standing in the road thinking, "
Why does my back hurt so much?...Oh! I'm carry 30 lbs of knitting yarns!
LOL Of course it wasn't all yarn! and it wasn't all for me.... (I'll leave it at that :)
There weren't as many good colours in the yarn as I found last year when it rained so badly. Many vendors told me they had sold out at the Maryland Fair that happened just a week ago, and didn't have time to dye a new batch and then some didn't come who had come last year. Tribal Spirit Fibers had completely sold out of their sock yarn in Maryland, and Foxfire Fibers had changed their yarns, so they didn't bring the yarns I was expecting to find. Decadent Fibers had about half of the colours and half of the yarn types that they usually bring - they too said that they didn't have time to dye a new batch after the Maryland Festival. That must have been some fair!!
Here is a photo from the vendors' website, and you can see some of what I saw today...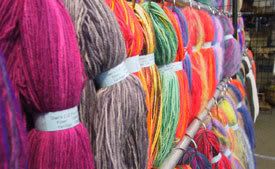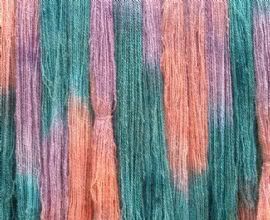 I kept looking and found some really rocking deals and gorgeous colours. I even got a pair of handmade sheepskin slippers for my boyfriend!
I have more stories of the fair, including the one where I got laughed at when I asked a wood-worker of spindles and needles if his items were historically accurate for reenactments. I guess he thought that someone wearing a Red Sox cap had no business asking such a thing!
But its time to go re-hydrate - I'm worn thin as a thread-paper! I got
Enchanted April
and
Cold Comfort Farm
from Amazon this week and I'm ready to curl up with them and veg quietly for the evening.