See the beauty! Today, after a long and somewhat challenging day, I arrived home to find an intriguing envelope on my doorstep! Oh, how welcome that sight was! Inside was such a kind note from Julie and tea: Chocolate Mint Rooibos and Crème Brule Rooibos, and this: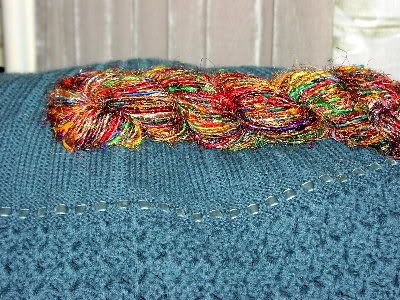 This is silk yarn that is spun from recycled Indian saris!! Isn't that
amazing
!?!? The colours are so complex and vibrant. The yarn itself feels soft and silky, but sturdy. See how the various strands of silk intertwine: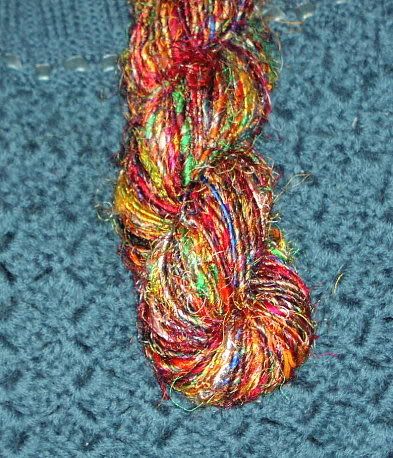 There must be a hundred colours in here!
I don't know yet what I'll make with this. I'm thinking of pairing it with a skein of green linen I have and making a kimono-style top. But there's the Simple Bodice pattern by Stitch Diva (http://www.stitchdiva.com/ProductInfo.aspx?productid=SDS-026 ) and this yarn would be beautiful as the waist detail lace... Or I could use it on its own as a belt, purse, hat, scarf, even fingerless gloves! You know, I will have so much fun just mulling this over for days and days.... "spinning" out the anticipation (so to speak).
The latest finished knit object is a cotton angora sleeping hat (night cap) for my friend Rose. When you live in the frozen North (sort of), like I do, flannel sheets and flannel nightgowns aren't enough. Yep. We wear sleeping socks. And,
some
people wear hats. Okay, so it's just me who wears a sleeping hat! But I can tell you it makes all the difference! And its good for staying up late to write or read, kind of like Jo's cap in
Little Women
. Yes, a sleeping hat is a good thing and I have many designs for these in my head.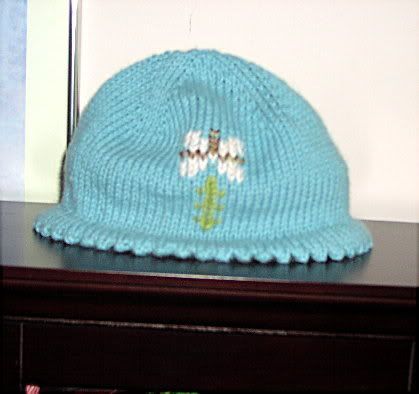 cotton angora. soft. warm. sigh....