...We had Snow!
The air is thick with swirls of fallen flakes, so that the scene out my window looks like fog is enveloping the house. The sun is rising slowly, and seems cold and distant. I am happy to curl up on the couch in the front room, where I can be warm and look at these scenes through the lace curtains over the bow windows:
A little bit of stray snow....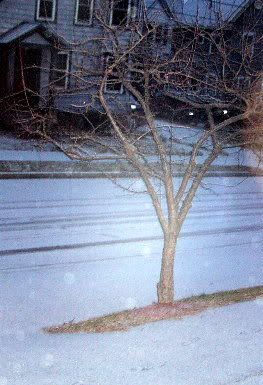 just enough to leave footprints...

A Winter Surprise
~Solveig Russel

Last night while I was sleeping
The snow came softly down
And slipped on all the shrubbery
A shining snowflake gown

I guess that every little bush
Felt startled with surprise,
To find itself a cotton plant
On opening its eyes.


Snowfall
~Margaret Hillert

Someone in the sky last night
Had an awful pillow fight,
And when I woke today I found
All the feathers on the ground.
Today is going to be a knitting day...after winding yarn and stocking my stash in my new bookcase, my boyfriend will knock on the door, and I'll make tea. Later, a friend is coming over and we'll gather up our current knitting projects and my ancient and vintage booklets and head for the yarn shop. Dee is working today, so we'll talk yarn and vintage patterns and plan a display of antique knitting. My friend will spend the gift certificate I gave her on yarn and beads. I'll try to resist buying yarn. We'll come back, have tea and gingerbread cake, and knit and watch Project Runway videos. Then I'll make a warm, cosy dinner (that will involve baked potatoes).
That's my plan anyway, for this snowy Sunday...