Yesterday my sweetheart and I put together the glass-front cabinet that he ordered for me for Christmas, to hold my yarn. We had fun with it and only got crabby with each other once:
"Where's the screwdriver? What did you do with the screwdriver? Will you leave it here for God's sake where I can reach it!?" "I didn't *have* the screwdriver! *You* had the screwdriver! Why do you have to lose track of all the tools!?"
Oh.
There's
the screwdriver - under the directions...
There was something so comforting about building this beautiful mahogany cabinet and looking forward to the soothing activity of pouring through my yarns and sorting them and putting them away. I imagine gazing at the neatly wound skeins through the glass doors and revelling in my lovely stash.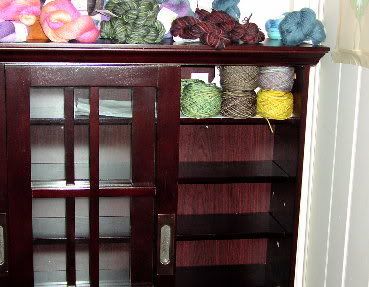 I did some of that sorting and stashing today, before a little shopping trip with my friend Rose and her family. Yes, that's all sock yarn in the photo: Koigu, Lorna's Laces, and Claudia handpaints.