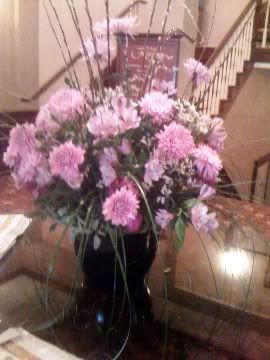 This weekend, the bf and I went away to a northern state to stay on the ocean, visit yarn stores, and continue the search for the elusive vintage earrings that we didn't find on Valentine's day. This was a birthday trip, and I had a funny birthday surprise. I found out that I was one year younger than I thought I was! I'm hopeless with years and don't pay much attention to age, so when I was telling people "hey, I'm going to be such-and-such this year!" I didn't even bother to count the years since my birth. But the last time I said it, my bf said, "uh, no you're not." Ha! Usually people are older than they think they are. I'm younger. Just like me. I always wanted to grow up too fast!
Portland is a wonderful old city, full of beautiful, historic buildings and artistic touches, like this beautiful verdigris clock tower: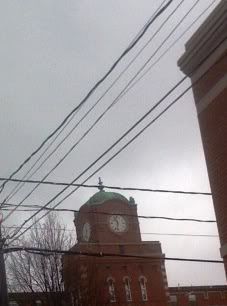 We stayed at a wonderful old hotel, right in the center of town... but it was set off in it's own little cobblestone street in a circle cul-de-sac, so it was quiet and private, and very vintage-y feeling and super cute.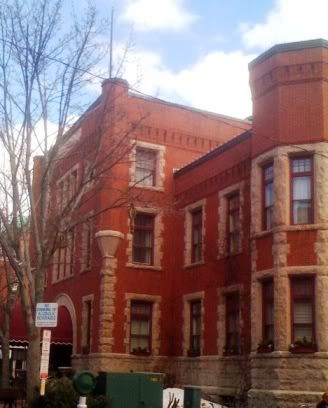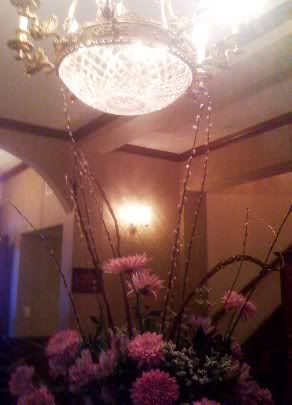 After we settled into our room...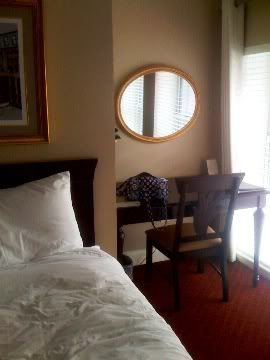 ...we ventured out for the first stop on our Yarn Shop crawl...
The Portland Fiber Gallery and Weaving Studio

.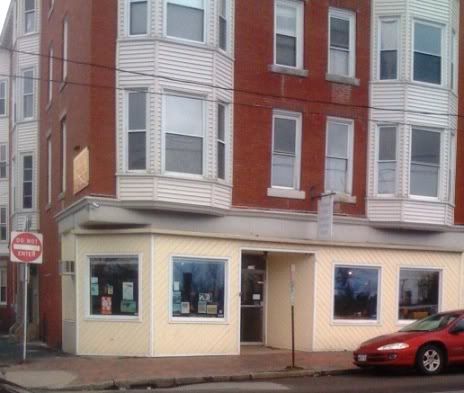 What a friendly store! We loved the shop dog, and she got lots of ear scritches from us and we perused the looms and weaving.
Then, I spent a lot of time looking at every single skein and fiber braid and cone of yarn in the room! They even carry a local dyer's beautiful creations. Some of this came home with me, but I can't show all of it because (ahem) some of my blog readers have spring birthdays themselves!
I found these cute little buttons, made from old typewrite keys - oddly only several "I"s and several "U"s were left, but I got one o each. I plan to use them on a sweater for the little guy and in between the I and the U, I'll place a heart shaped button! I Heart U.
As we left (with a nicely squishy bag of yarns and things), we noticed some really cool felted fish suspended in the windows. This Goldfish was my Piscean favorite:
and if you look closely, you can see two more, swimming in the watery reflection of the glass:
The lovely owner, Melodi, had recommended a new place to lunch: Otto's Pizzeria and Bar, right next door. and she was right - it was unbelievable!
We had a simple pie, but there were many more exotic choices: Mashed Potato, Bacon, and Scallion; or Mushroom and Cauliflower; or Butternut Squash, Ricotta, and Cranberry; or Pulled Pork and Mango... The tables and benches were made from old pianos, and the ornate piano-maker labels were left on, with their beautiful gold flake... original old paintings graced the walls, all in quirky vintage frames. The light from the huge front picture windows suffused the room and made the oak and mahogany glow. It was a lovely experience - a feast of both food and style.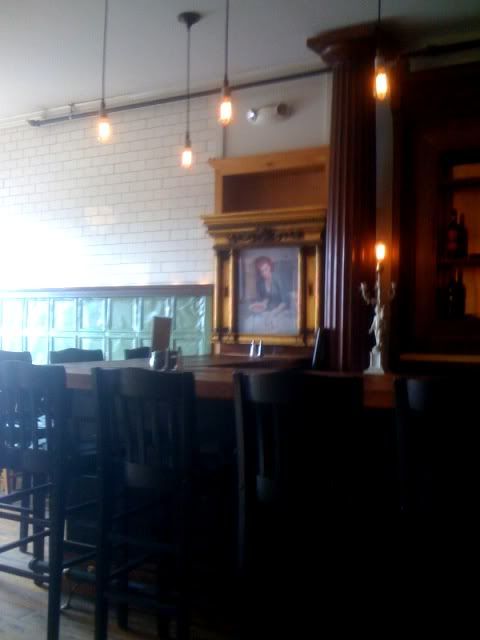 After lunch, we wandered down the street (past some incredibly intriguing but sadly closed antique and book stores: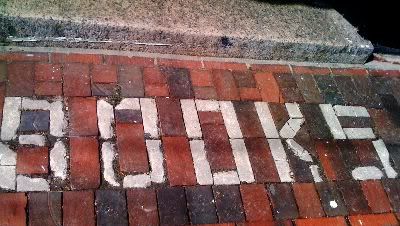 and found ourselves at one of our yarny destinations,
KnitWit (Yarn on the Brain)
: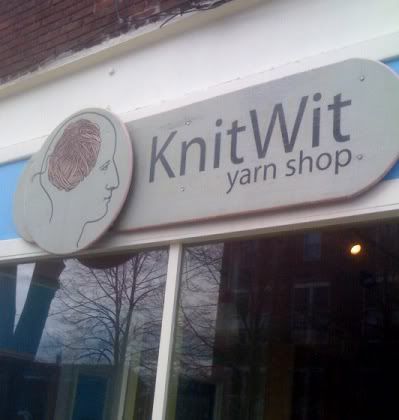 You may remember that KnitWit is the LYS of
Quince & Co
yarns, and that was the reason for my visit. I wanted to know if they carried the patterns, and get another look at all the colourways of the yarns in person.
I have to admit, that once I got inside, I found it all a bit overwhelming, and didn't get half of what I had come for. The shop owner seemed very harried - I think there had been a class that was finishing when I first went in, or perhaps a visiting Knitting Celebrity, and she may just have been exhausted from a busy Saturday! I quickly grabbed some colours I thought I might use, and asked about the patterns. But, although the sample book had shown the patterns in colour - just as they are on the Quince website, she was selling the paper copies in black and white. When I asked her about this, she said that printing them out on her printer in colour would just be too expensive - it would use up her ink cartridges too quickly. I told her I'd buy them directly from Quince.
I found some of my favorite needles:
Bryspun
- with their tapered pointy ends and flexible ivory material. I really wanted the longer DPNs for hat making, and was able to find 4 pairs! And they are very inexpensive! There were also some pretty handmade stitchmarkers on the counter, and I'm very susceptible to impulse buys, so....

Here is some of what came home with me from both stores:
From top to bottom, Quince Tern (silk and wool) in Back Bay, Barnacle, and Stonington; Hand Dyed yarn in merino and sea cell from the Weaving Studio, called Diving Deep.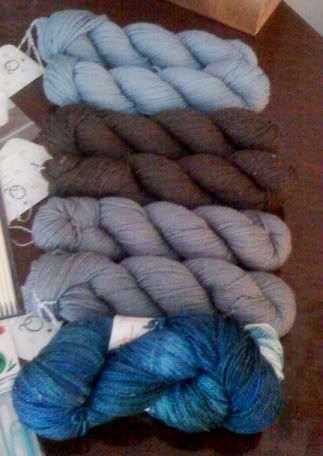 The Bryspun needles in US 6, 7, 9, and 10; and KA stitch-holders in a cute teal green:
This seems like a exhausting trip to me as I write it, but it was only the beginning! Our afternoon included a leisurely stroll around town, in search of the mythic earrings - which we found at a local shop. I loved the hilly walks and the architecture - aren't these cute blue buildings?.
The sun was going down, the huge full moon was rising, the sea breeze was getting cool, and the hotel had a Spa... so we went back to the hotel for a while, before dinner. For dinner, we chose a place called The Grill, and sat under a vintage (1930's I think) print that read:
EAT MEAT: Meatless Diets Are Often Dangerous!
It went on to say that 97% of pharmacists recommended meat-eating. Ha ha!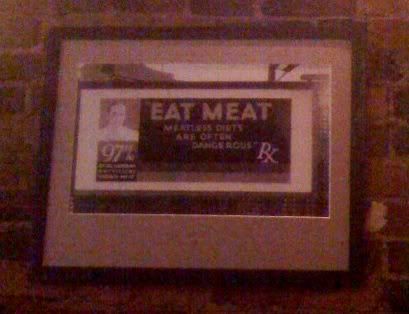 We had the Scallops, grilled, over risotto, with grilled asparagus. And that was enough for that day!
The next morning - not too early - we made our way down the hotel restaurant for tea and poached eggs and marmalade on wheat toast: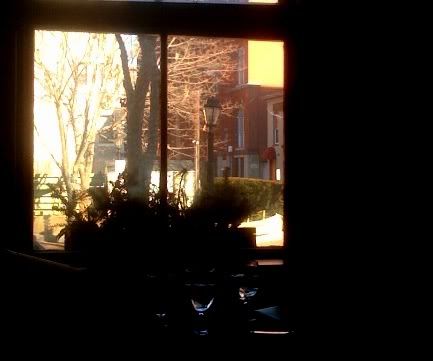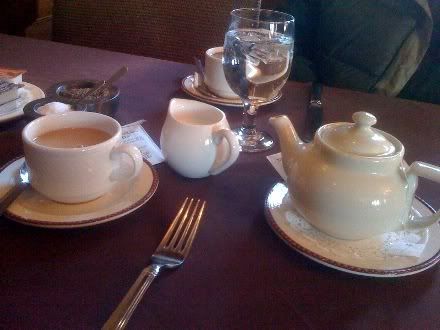 So that was the whirlwind birthday trip! It felt like a week instead of a weekend and we really were so refreshed and relaxed afterward. Every moment was so cool! And of course, there was yarn. Lots of yarn.