"When the bats like ghosts are gliding,
witches soar, on broomsticks riding,
jack-o-lanterns twinkle, grinning.
Our Halloween revelry will be just beginning!"
According to the verse on my collection of old Halloween postcards, at some time in American history Halloween was considered a time for fortune-telling - for fore-telling the future... your fate, your coming year, your true love...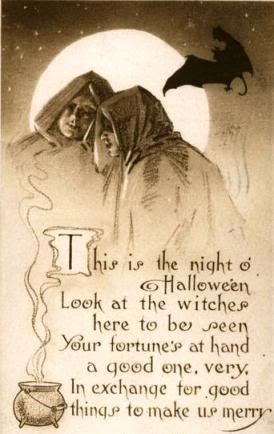 Legend was that if you turned out all lights, and held a mirror in one hand, and looked in it with a candle in the other hand while walking backwards (sometimes while walking backwards down a flight of stairs!), you would see in the mirror a vision...
If you will but backwards go
Several rods or so –
With a mirror by the handle
And in your other hand a candle
You will surely meet your fate
Now's the time – it's ne're too late!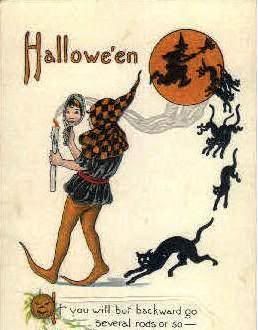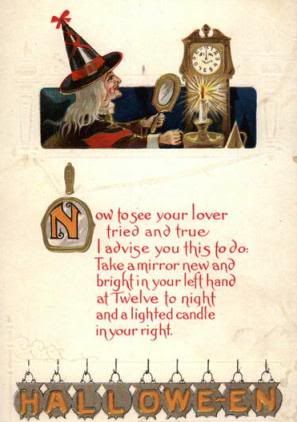 For my part, I'm just happy to make costumes out of old furry jackets from the thrift store, make simple autumn food from the
Organics to You
delivery, and walk through the crispy leaves to the tea shop for Pumpkin Spice Tea...
Still, I won't be surprised to see the Goblins dancing if I walk out after dark!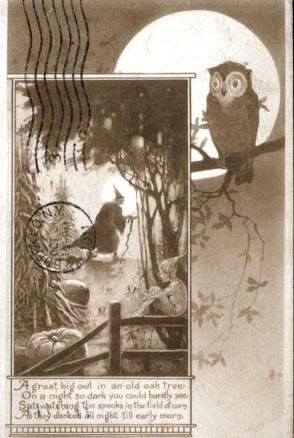 ~~~~~~~~~~~~~~~~~~
Sophia's Butternut Soup recipe
Roast two medium sized butternut squash in a hot oven - split the squash, remove the seeds, sprinkle with olive oil and a little maple balsamic vinegar; place in a pan and cook in the oven for 45 mins
Scoop out the cooked squash and mash it. You should have about 2 cups of squash, but I never measure things exactly - this is just approximate. In a heavy pan on the stove, add to the squash 1 cup cream, 1/2 cup milk, a dash of cinnamon and of salt, a tiny pinch of ground cloves, red pepper, and of nutmeg. Stir constantly while heating slowly. Do not boil. You may want to use a wire whisk to blend the ingredients.
You may also add very finely minced onions, leeks, and/or mushrooms, first sauteed in butter or olive oil.
Core two fresh apples and simmer with a small amount of water in a separate pan. When thoroughly soft, press through a sieve and add a teaspoon of brown sugar or honey and a dash of salt. It should be thick. Set aside.
Pour the squash soup into bowls. Place a scoop of the applesauce in the middle of each bowl. Sprinkle with a little more nutmeg. Some of my friends like it with a small spoonful of sour cream, or some grated cheddar cheese on top, too.
~~~~~~~~~~~~~~~~~~~~~~~~~