Today dawned with a definite sharp crispness (I lighted a fire in the fireplace!), and it reminded me that I hadn't finished preparing for winter. I do have balaclavas made for everyone now (you wouldn't believe the storms we get here) and here is the baby one: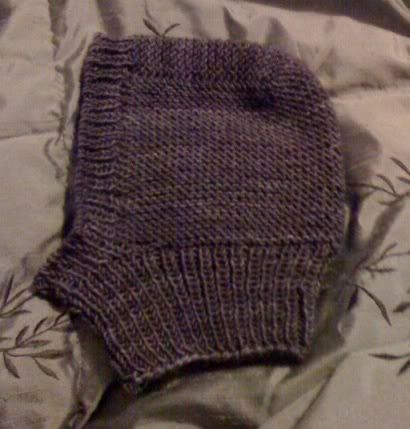 I used a most wonderful vintage pattern that shapes the headpiece so perfectly with no piecing or sewing. Everything is made in one piece. Easy. The yarn is Blue Moon's lightweight fingering STR in "
Manly, But I Like it Too
." Babies are always overheated, so the lightweight will be perfect.
Now I am on to another vintage pattern, this one from the recent Sept/Oct Piecework magazine: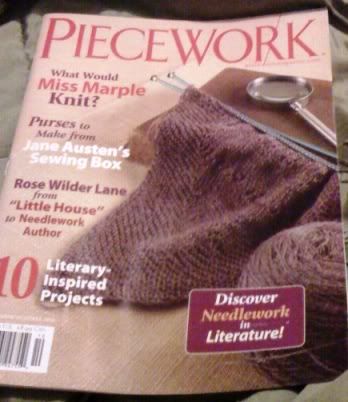 This magazine was so unique in that it explored the handwork, mostly knits, in classic literature. Miss Marple mysteries by Agatha Christie had their own feature and a project alluded to in one of the stories was the central pattern. In many Miss Marple mysteries, she is described as discreetly knitting on a shawl or on baby things while suspects spill the beans around her. I think it is
The Caribbean Mystery
where she is knitting a pink shawl.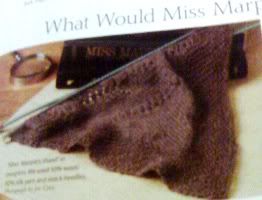 The shawl chosen by Piecework is from the same era, 1930, and was donated by the fabulous
Iva Rose
who rescues vintage and antique patterns and preserves them for the rest of us and for historians. The pattern is printed in its original form, but only the pattern - definitions of the vintage stitches aren't included.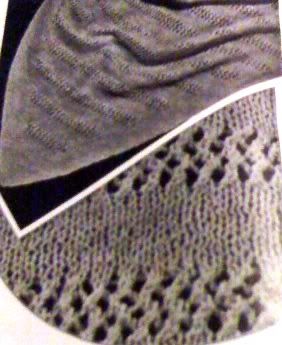 In the
Interweave Piecework group
on Ravelry, a few of us have banded together to knit up this pattern and figure out the needle size and yarn requirements. (Come visit us if you want to knit along!). So far, it seems that a fingering weight yarn with size 6 US needles are the favoured choices. There has also been a lot of discussion about which stitch to use for increases: kf&f, bar lift, or backwards loop cast on. In the original, the increases are almost invisible so this will influence my choice. There is also an obscure mention of knitting into the back of stitches, without specifying which stitches so this might refer to the increases, in which case probably the lifted bar increase was used. The original pattern was for a square shawl, though some are halving this to make the lighter triangle.
My own yarn will be Blue Moon Fiber Arts Marine Silk (merino, silk, and sea cell) fingering in the Lodestone colourway. I ordered two skeins just in case, since I plan to make the original square shape in full.
This is what Marine Silk looks like (this is the Quilla colourway; it will be a while before my Losestone arrives):
and this is what the Lodestone colourway looks like - a subtle very light green (it didn't photograph well, but you can get the idea):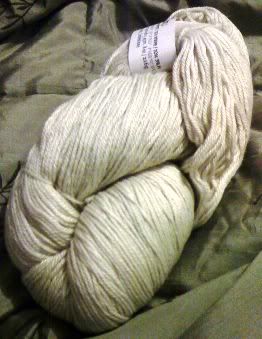 I'm really looking forward to this project! I think it will be fast and relaxing to knit a simple square shawl in the cold weather.
One more cold-weather knit for myself is part of my plans (I really need to get back to knitting for others!), also from this same Piecework magazine - these gorgeous gloves: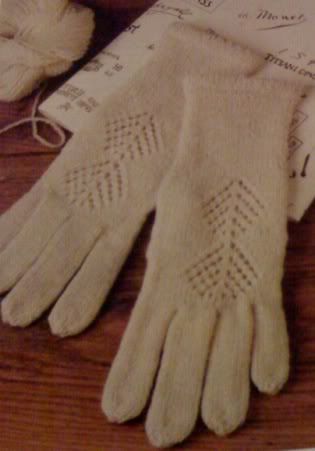 I'll use the leftover dove grey cashmere yarn that I used for my own balaclava. I know, they won't wear well, but maybe I'll save them for special winter occasions!