Strange things happen around my old New England farmhouse sometimes. Things disappear. Sometimes I think that I am living with
The Borrowers
, or that the field mice are lining their winter nests with my knitting! The most recent things to go missing are all my fingerless mitts (I would call them gloves, except they don't have fingers). I've had a couple of pairs of my own Koigu Gloves pattern - one was my favorite green Broccoli mitts - and use them every fall before the weather gets cold enough for really serious gloves. But when I cleaned out and organized the coats, jackets, and accessories they were nowhere to be found - nowhere! Borrowers, indeed.
So...here are my quickly knitted replacements:
Veyla
, from Ysolda.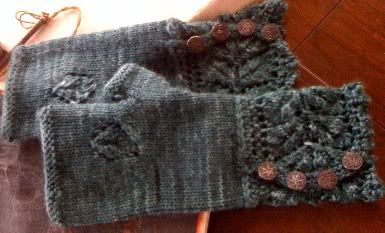 I can't say enough about this pattern. The finished gloves are so lovely and with their lace and details they look like a complicated knitting project - but they're not. The pattern is clear and very fast. I made this pair in three days, just working on them in the evenings while watching Rubicon.
My yarn is the wonderful
MacKintosh Yarns
in the Iona Fingering, which is a merino-cashmere blend, with a little nylon for durability. It's so soft and her colours are stunning in person. This colourway is a deep blend of dark teal blue and black - very "ocean-depths" coloured!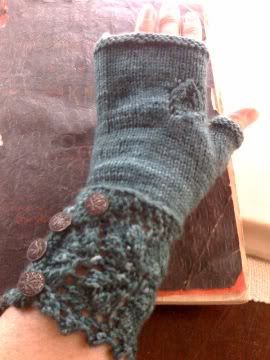 The buttons are antique faceted and silvered black glass. They were a gift from a friend and, I wanted to use them on something where I would see them often. I have enough for a sweater, though, so if I make something else that they would be good with, I might switch these up and use smaller ones on the Veylas.
These mitts fit perfectly and I'll use them on those early frosty Fall mornings we are having. (like today - 39 degrees Fahrenheit right now, although later today, it will be closer to 70!) I see more pairs of Veylas in my future!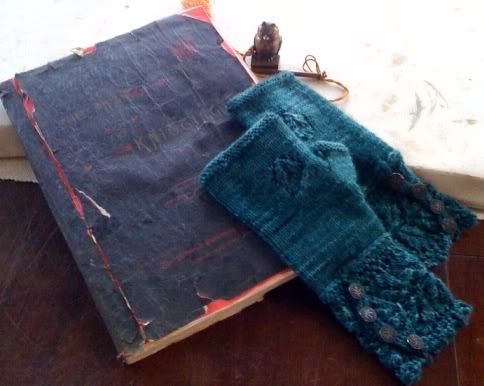 The book in these photos is a precious antique volume of The Art of Knitting, 1902, published by The Butterick Publishing Co [Limited], London and New York, Price: fifty-cents or two shillings.
This incredible original came to me as a gift from my friend Marky in Australia - its a real treasure! This was obviously a well-used volume over the past 110 years, as the pages are filled with faded photographs of mysterious people, patterns cut out of other magazines of the day, and hints on cleaning felted hats and pressing silk sash ribbons between muslin... This photo is the beautiful "Maggie" holding a garland in her lap and perhaps dressed for a wedding with her deep V-necked gown and dainty button-up shoes.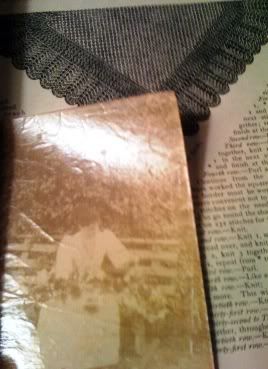 The frontispiece is a very familiar one - a scene that I've found in several of my old knitting and crochet volumes from the mid and late 1800s, that of a grandmother teaching her granddaughter to knit, and leads me to believe that in a publication from 1902, at least some of the patterns have their origin in an earlier century. Perhaps this picture is meant to indicate that the patterns span generations?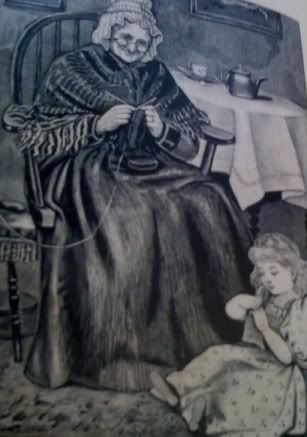 The patterns are quaint, like this simple and quick pattern for sleeping socks:
Its heelless design and openwork pattern would make it a very easy pattern to work up in a bit of leftover wool or silk.
I particularly like this pattern for a cuff, with it's scalloped design and think I might make a pair to peek out from the slightly-too-short sleeves of my brown jacket: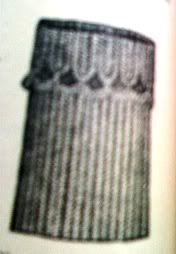 And, of course, these beautiful mittens will have to find their way into my wardrobe this year. I don't really wear mittens much, so I'll probably re-design these to have open fingers.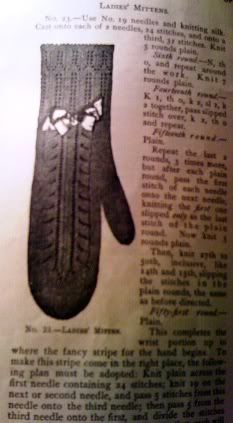 On the very last page of this fragile booklet, the previous owner has pasted a pattern article from a 1915 newspaper - the WWI years. It is "A Cap Comforter for Tommy" - a hat and neck-cowl combination for a soldier in winter. With it's ingenious design and historical significance, I think it deserves it's own post, so plan to put that up in the future.