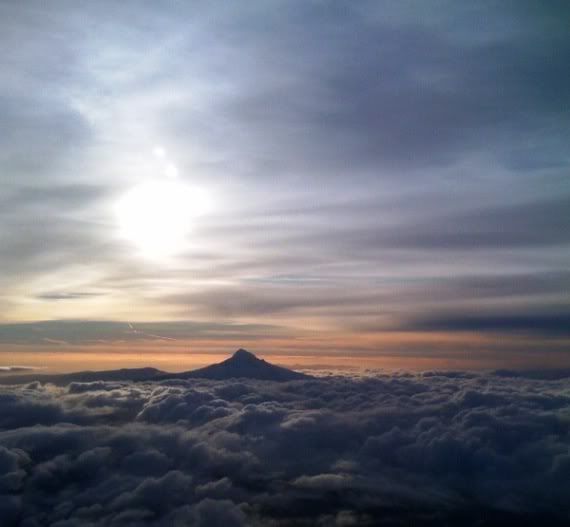 I love travel. There's nothing like exploring a city that you have fallen in love with and always discovering treasures in every street.
Oregon Winter

by Jeanne McGahey
The rain begins. This is no summer rain,
Dropping the blotches of wet on the dusty road:
This rain is slow, without thunder or hurry:
There is plenty of time – there will be months of rain.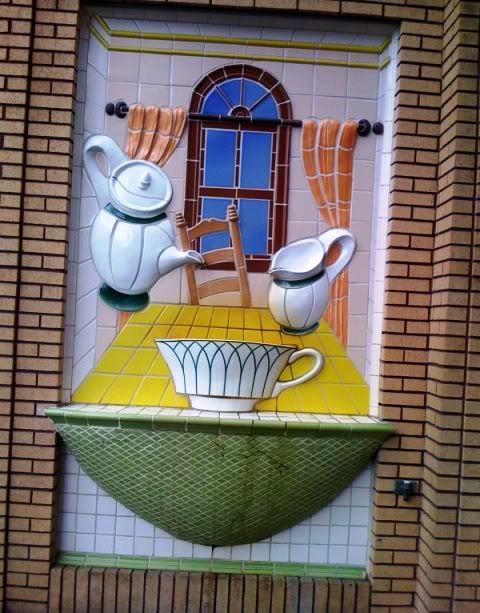 (this is a bubbling fountain in the summer)
I love TeaZone on 11th near Glisan, the little Ace Hardware store on Glisan, and Tea Chai Te on 23rd, and Pearl Bakery on 9th and the Whole Foods downtown and the Infants Story Time at the Library (and the awesome children's Librarian who helped us out so much!) and the poems on the MAX and the Pony Club gallery that displayed Amy's art, the little "Resting Garden" where I stopped each day...
On one walk, I stopped into a new Yarn Store on 11th,
Urban Fiber
: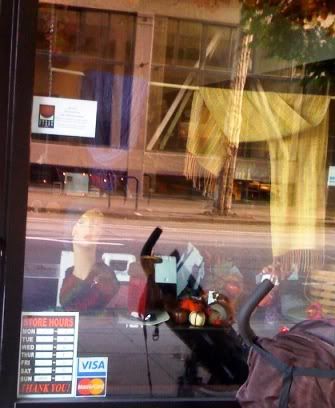 Although the space is small, it was full of unusual, local yarns and accessories. There were so many beautiful fibers to choose from, and the prices were good. I fell for the cashmere blend in The Road to China and got enough for two winter scarves: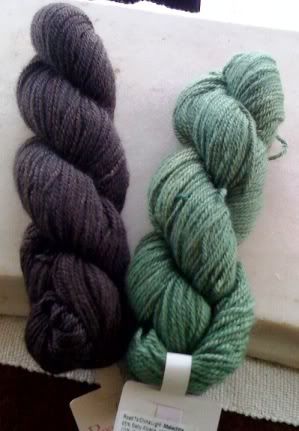 In the front, to the left of the door, is a cosy space with comfortable chairs for a small group of people to sit and knit - very friendly! Even the accessories were unique - I didn't think I would see anything new, but ended up with a nice little bag of unusual items. A friend of the owner makes the stitch markers, and they even have little lace markers. Since I knit on mostly small needles, this is the kind I like. I liked Urban Fibers and would like go to one of their knit nights or other group activities!
Another favorite of mine is
Twisted
, up on Broadway. This is quite a long way from the Pearl district where I am (I take the Gresham train) but is so worth the trip. When I visited this time, they had moved the enormous stock of fingering weight (sock) yarns across the entire right hand wall. The
Blue Moon Fiber Arts
yarns of all types - not just STR but also Silk Thread, Seduction, Peru, De-Vine, WooBu, Laci, and Geisha - covered two sides of the corner. This may not seem unusual to those of you who get to go to the Sheep and Wool Fairs and Sock Summits and Knitting/Spinning/Dying retreats where Blue Moon yarn fondling is rampant. But for someone who usually only views it online, this face-to-face encounter was pretty mind-blowing.
It was educational too. They had almost all of the new colourways and they were all different. It was amazing to see several skeins of the same colourway with none of them looking exactly alike. Often, there were two in the same colourway that were like fraternal twins, with the same depth of colour, but never more than two. I really had a jolt of realization of what "hand-dyed, two at a time" meant! It was amazing, and amazingly beautiful! And I realized that when I see a photo of a skein example online and expect the skein I order to look just like it, I am truly on the train to Looney Town, headed for City Central! Because - they are all different! Of course the colourways have a definite family resemblance, but none are identical twins. None. But each one is so beautiful! (did I say that already?)
Getting to choose the exact looks and depth of colour that I wanted was so much fun. I got a Spike that had a deep blackish red (the other two skeins had a lighter black) and a Drusilla with a lot of nice grey-mixed-with-red, and a Paula Mae that had an incredible little touch of light blue in one spot (one of the other skeins had that and third seemed to have no blue at all).
I also went crazy over the other yarns, especial
A Verb for Keeping Warm
. This yarn uses natural substances to dye their yarns so the colours are subtle and soft. There was so much to choose from that I stood back, on the other side of the store, to view the wall as a whole and then picked out the two skeins that my eyes kept going to again and again. It was quite funny, because, although they looked different from a distance, they turned out to be the same colourway!
Here is The Peacock's Wild Plume in Metamorphosis, the sport weight yarn with 70% Superwash Merino and 30% Silk... and The Peacock's Wild Plume in Annapurna, another sport weight in 80% Superwash Merino, 10% Cashmere, and 10% Nylon. So Soft!
Okay, so I got a little carried away with all the yarn love, but you know that I'll use it and lots of lovely cosy clothing will result. So it's a necessity, right?
I also visited
Knit/Purl
on Alder and 11th which is a lovely store but very inconvenient with a stroller and a sleeping baby and I have to say that, although my several experiences before the baby were great here, this time they followed me around like I was going to tuck yarn into my carriage. It was embarrassing. And although they opened and held the door for a couple of people ahead of me who were carrying their packages out, they actually stood right near me and smilingly watched me struggle with the heavy wood-and-glass door, the stroller, and my bag (with the Rowan book I had just purchased) as I tried to carefully back down the one big step out of the store without tipping over, and they never even stepped forward to hold the door! I didn't buy any yarn there, although there was a lot I wanted. I'll go back sometime when I'm over the sting of that experience and can visit on my own. Because I really do like the store and I know that sometimes people don't think to help until after the opportunity is over.
Now it's time to actually create something with the yarn I bought. Right now on the needles are a pair of
Veylas
in Indigo Moon black (from Twisted) and I'll also make a hat from this... I found two scarves in the newest Holiday Vogue (they have a section with several lace scarves) that will be perfect for the cashmere Road to China yarn, and as for the STR... The Paula Mae will be stockings for Jule, the Spike will be knitted ribbed pants for the baby, and the Drusilla will be for me. The Annapurna cashmere blend from A Verb for Keeping warm was going to a
Peak's Island Hood
, but there is not quite enough yardage, so I need to re-think that... There is the
Holly Berry Cowl
in the
latest

Piecework

magazine
, and although it's gauged for lace weight, I might be able to adapt it... So many possibilities!