The needle arts have been struggling around chez Sophia recently - in fact, they've been flopping like a fish on shore. It's not often that something you're completely familiar with flops up and smacks you in the mouth, but that's what my knits have been doing!
The first fail had to do with a skein of yarn that I've had in my mental knitting hope chest for a few years. This skein of Koigu PPPM has been sitting in the front and center of my glass-fronted bookcase, holding out the promise of some happy, bright summer anklets.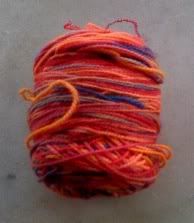 I think I originally got it as a single skein at the Patternworks summer sale. I was attracted by the cherry red mixed with lake blue and its small bits of green, orange and yellow shades for contrast. I had it pegged for the stranded
Crusoe Socks
, the original was made in this very yarn, and one skein has always worked for short socks for my narrow feet.
The pictures of the original pair of socks are so appealing!
My first fail was the size. The pattern calls for a cast on of 44 stitches. When I got past the heel, I tried them on - or attempted to! I couldn't pull them past my toes. My usual cast-on of 60 sts would have been better. I ripped out and restarted from the beginning. This time I made it to mid-foot - almost done with the first sock (they are cuff-down). I just couldn't stand it. The yarn, when knit up, revealed that it had LOTS of pink mid-tones hiding behind the red and blue. When knit, the colours blended in such a way that the fabric was mostly greyish-pink with flecks of the other colours here and there. I hate to say it, but it looked like clown barf. I ripped the socks back again and put the skein in the rejected bin.
Well, it's no fun rejecting a project - especially one you've pinned hopes on for so long! But, there is another. I've spent innumerable hours on a little pair of vintage-styled baby pants knit in soft Pima Cotton -
Classic Elite's Premiere
cotton and tencel. This is the same yarn I used for the vintage wrap undershirt and these pants where meant to make a set with that shirt. This pattern is from
Vintage Baby Knits
by Kristen Rengren (the pants are the third photo on the top row), though I modified them to be knit in the round, turned them from shorts to long pants, and changed the stitch pattern quite a bit - even adding cables to the legs. It has been a very slow knit - splitty yarn on very tiny size 2 needles - but I persevered because they were so very cute and would be so very useful for summer.
You know that back part, where you add short rows so that the bulkiness of baby diapers is contained? Look at the right side of these little trousers, and you will see that when I began the legs of these charming pants, I folded them with the back waist on the side. Fail!
My dilemma is whether to rip out completely (at this point the yarn is looking a bit exhausted) and start over, or whether to persevere and see if it really makes much difference to the fit. After all, these pants are likely to be shortly grass-and-sand stained from the park. Ah, well, I think these pants are already too small. I'll rip them out completely and re-make them into a pair of summer of shorts according to the original pattern.
I do finally have have a successful knit! I created a pattern for cotton summer cap for the little guy - something that will be cool in hot weather, but protect his sensitive noggin from sunstroke. This cap, my own design, was knit from Habu A-184, Natural Cover Cotton, colour 5: natural with a navy wrap.
What looks like a hole by the foot of the Owl cable is actually a spiral eyelet, folded under which made it look a little bigger. I hope soon to have a modeled photo.
This spiral eyelet pattern took a skein and a bit (each skein of this Habu yarn is 47 yards). It does have little ties that I tucked inside for the photo, because Frankie is now pulling his hats off as fast as they go on.
Now I am trying to resist any more experiments. I have a few project possibilities to start and a couple of long-term projects to finish up. And it's July, which means it's time to start knitting for the winter holiday gifts.