I thought you might like a little dose of Vintage this morning. A dose of vintage can lift your blues, kick-start your inspiration, and generally make you feel good. It works for me! But I admit I'm a little odd - I'm the person that has a chocolate-bacon bar for breakfast and likes wearing an old cotton granny-slip for a nightgown! But maybe you have your own reasons for liking the vintage flash, so here it goes:
A couple of years ago, I was fortunate enough to find an old children's knitting book, called
I Learn to Knit to Dress My Doll Primrose.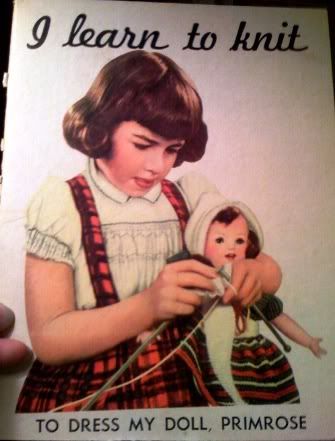 It has an inscription on the inside,
Christmas 1950, for Diane, with Love from GeeGee.
So that pretty much gives me the publication time frame. A friend on Ravelry told me that this is the US publication of a French book of the same name, published in 1947. The story in the book is very 40's with carrier pigeons bringing news and propeller airplanes.
This children's book tells the tale of how the doll Primrose came to be found in the garden of a little girl, The little girl has just learned to knit, and so she makes a wardrobe for her new doll, and in the process gives simple directions - with lots of pictures - of the knitting process.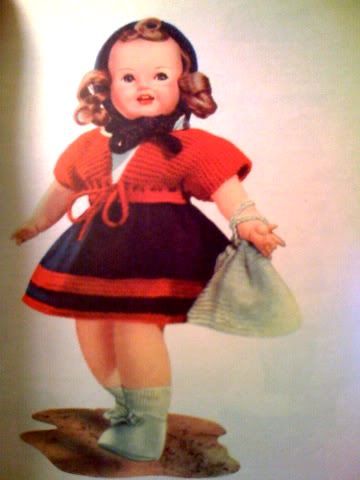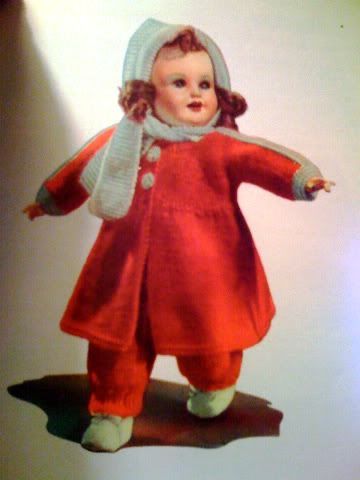 I love children's knitting books and have a couple of others (we have an antique book fair in my town every year - I missed it this year, but have gone often in the past) but they are scattered around the house in different places... Oh, okay. I'll go find them!
Here are the
Mary Frances Sewing Book (Adventures Among the Thimble People)
and the
Mary Frances Knitting and Crochet Book (Adventures Among the Knitting People)
, published in 1913 and in 1918. The sewing book still has all the patterns, including one for a doll's wedding dress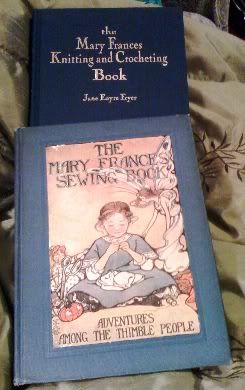 Like the 1940's one above, these books provide simple instructions through a fantasy adventure story format and then offer practice with small simple projects that result in pretty instant gratification to keep the kids interested. These projects are described in these old books as "small projects that will not tire her."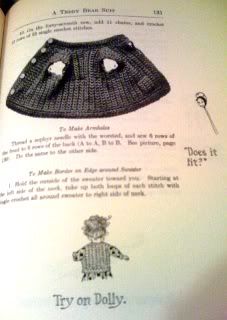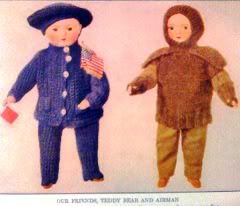 Another Book I have is a reprint of Flora Klickman's 1910
Little Girl's Knitting & Crocheting Book
by the
LACIS

company.
Flora Klickman was an incredibly prolific crochet and knit designer and collector and chronicler of designs. She edited many little books of patterns, as well as the Girls Own Paper, which was a magazine for girls and young women meant to fill in the gap left by the popular Boy's Own Magazine. I have one or two of her Home Arts Series crochet books and a few of the Girl's Own Paper in their Annual Edition - which is a bound book of a year's worth of the magazines, with all the articles and colour illustrations. But back to the Little Girl's Knitting & Crocheting Book: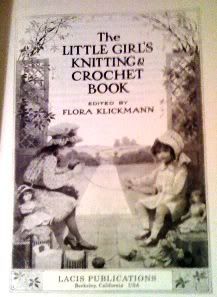 This book has very few instructions - just a couple of pages of simple stitches. Many of these patterns are doll clothes and accessories but the Little Girl's book has patterns for "Baby Sister" and "Baby Brother" too. This has the added advantage of teaching children to care for their younger siblings.
As well as doll outfits, it has slippers, hats, bags, knitted stays, filet crochet curtains, edgings for sheets, a petticoat, a fluffy blanket, a pretty vest (undershirt), and edgings for underclothes sized for a 4-year old and other patterns. This book seems to be geared to the preschool child who has already begun her lessons in needlework - lessons that in 1910, would continue through her childhood and girlhood if she were lucky enough to go to school or to have a governess or a mother with free time to teach her. (I also have some of those needlework instruction books that were used in early schools or by governesses to teach knitting and crocheting to children.) The Little Girl's book includes Filet Crochet in it's instructions and patterns, something I didn't find in the others. But that's not surprising because filet crochet was one of Flora Klickman's own special interests.
Here's a pretty vest pattern that fastens with knitted ties, on the side.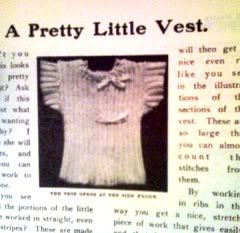 I love the ruffled, fancy cap sleeves on this little vest. I'd like one for myself!