Every year, my boyfriend's parents visit Maine in May. This year, we went. A little too early for crowds of summer tourists, it's the perfect time to relax and feel a part of the community. We had a second floor room overlooking the rocky shore and spent time on the balcony, reading and knitting. We visited the Sea Wall - a long barrier of tumbled granite with innumerable life-filled tide pools - and I sat in the sun and knit, while my boyfriend told ripping yarns about his childhood vacations nearby.
This is the view that I saw when I first opened my eyes in the morning:
and soon after, I was on the balcony, watching the sun rise: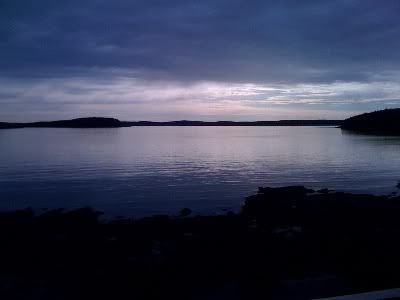 After a while, we would wander down to the breakfast room for the 'downeast' continental: hard boiled eggs, fruit salad, sliced fruit, and un-cut apples, pears, bananas, and grapes, bagels and English muffins, oatmeal and cold cereal, apple muffins, coffee cake and Danish, peanut butter, jellies, cream cheese, juices, teas, and coffees....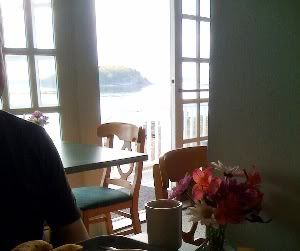 My favorite breakfast combination was a hard boiled egg, a toasted English muffin with peanut butter, a banana, orange juice and a cup of tea. Those going off on long hikes or bike rides might have been spotted slipping eggs and bananas into their clever jacket pockets...
One day, we took a Nature boat ride around the islands. Here you can see the place we stayed, from the ocean side, and a sail boat that gives evening tours...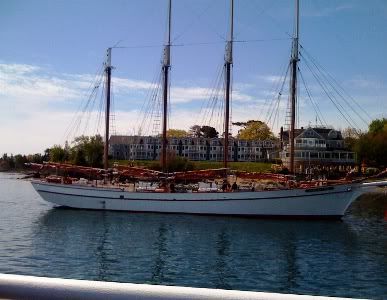 We saw four huge Bald eagles, even a nesting pair, and innumerable bay porpoises and harbour seals with their pups. There were about 12 mother-newborn baby pairs. The pups ride on their mother's back - it was so cute! I took a lot of pictures of the seals, but they are so well camouflaged that in all my pictures, they are indistinguishable from the granite outcrops where they were sunning, swimming, and having their babies... Here you can see some bay porpoises in the water: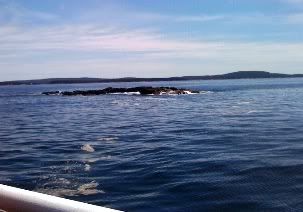 There is an old lighthouse out on the islands, but it is called the "ugliest lighthouse" on the coast, because it is a square house with a square light tower on top, instead of being the usual tall, round light tower. I didn't think it was ugly - it was beautiful to me. The fog bell is broken in the "on" position, so it is always ringing, but this is good because there is a jagged breakwater nearby that is invisible to ships at high tide: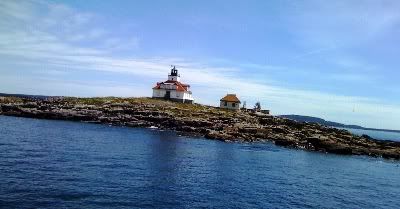 The grounds of our Inn were beautiful, with lilac bushes and apple trees in full bloom: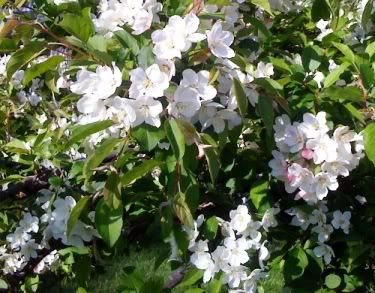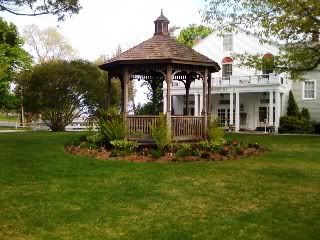 Of course, no trip to this area is completely satisfying without a visit to the
Lilac Lily Yarn Shop
in Southwest Harbour. I wish I had asked if I could take a picture of this lovely shop - it's kind of like magic - it looks like a small white cottage on the outside but inside is room opening on room, every one full on every wall with exquisite yarns and accessories!
There were a couple of enticing displays of Tilli Thomas beaded yarns and I couldn't resist the Australian beaded merino called Flurries in pale green
Stormy Haze
and the playful blue and seaweed-green
Mermaid
:
It was hard to say goodbye to this beautiful area of the Maine coast, and of course we talked - as we always do - about finding a little waterside cottage somewhere as our summer haven... Ocean dreams, the very best kind of dreams...