Mother's Day weekend is always the time for the local Sheep and Wool Fair. I've been going to this fair for many years, never missing. So when I heard that this weekend was going to have occasional thunderstorms, I didn't think twice, but put on my mosquito repellent and got ready to go. I did pack a retractable umbrella and stepped out onto the porch to test the weather, but since the sky was grey but dry, I just threw on a long light sweater and jumped in the car. Halfway to the fairgrounds, the downpour started. I didn't have a hat or a jacket and I found on first opening, that the umbrella I'd brought was broken in two spokes, so.... not the most effective rain protection. Did that deter me? Did I turn back? No, no, no, no, no. After all, I did have boots on my feet! My back might get soaked (it did), but my face and my feet would be dry enough!
The first couple of hours were very quiet - I had a great time wandering around my favorite fiber booths. I'd come with a mission - I wanted a Golding's Lucet and - if possible - a beautiful
Nostepinne
. I also needed to supplement some gorgeous Ancient Colours handdyed silk boucle that I hadn't gotten quite enough of last year.
The storm, predicted to be brief and passing, continued all morning and turned the woodland paths into ankle deep muddy lanes. The food booths were hard-pressed as rain lashed in under their tents and people tried to find dry corners and eaves to stand under while they ate (the picnic tables are uncovered). Some people stood in the rain, others ducked into the animal barns with their lamb and buffalo and apple crisp and fried dough dredged in sugar.
By 11:30 am, the covered barns were getting overwhelmingly crowded. My LYS, The Elegant Ewe, was the busiest of all! I only had the chance to stick my head in to say hello because both Marcie and Hal were moving at the speed of light to assist all the customers. They had some great specials going on, though.
The
Green Mountain Spinnery
always sets up a lovely colourful display and they gave me permission to take a picture of all the pretty:
My stash already has a big representation of their yarns, so I limited myself to getting a couple of patterns, the Hooded Scarf and the Elfin Hood, in preparation for next winter:
I was lucky - in the first uncrowded hours I'd been able to find the booths I was particularly looking for. The first was Ancient Colours from
Long Ridge Farm
, a local natural dyer. From this artist, I bought the 100% silk boucle, so that now I have enough for a summer sweater. I also couldn't resist some colourful skeins with two different silk yarns twined together - these are for scarves. And finally, I was excited to find some gorgeous naturally-dyed, very soft wool in a colour called Toad. I got enough to design a long-sleeved sweater, and a matching skein in lace-weight for trimming the collar and cuffs.
I told myself that I wouldn't buy any more yarn from
Decadent Fibers
, because I still have beautiful skeins form previous years. But.... they had a special Sale Bin and I just couldn't resist! I found three matching skeins of Marshmallow - an Alpaca and Merino sport-weight yarn in the colour Delicious Apple. I plan to use this for a summer sweater - the pepper-y red goes so well with summer sun!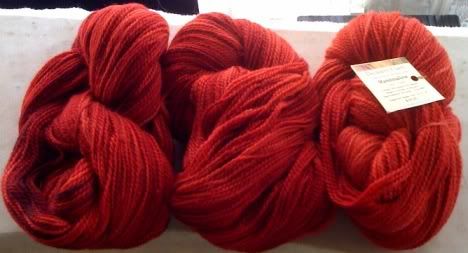 The last on my list of favorite hand-dyers was
Ball and Skein
, a Vermont artist. Last year I got her gorgeously delicate Seaglass shawl and the cashmere to make it (started, but hibernating temporarily), so I didn't think I needed anything else. But, as usual, her artistic eye for colour and fiber drew me in. I never regret it. I was captured by her new "Elise" yarn - a blend of silk and merino in "Haze", which is a subtle blend of moss green, olive, and misty blue-grey. This yarn is enough for a sweater with 3/4 length sleeves and I'll probably use it for something from
Kim Hargreaves
new book, Misty. The bright green skeins are a very silky blend of silk and merino that she had especially spun for her - single plies - and they are to supplement some of the same that I bought last year. I probably have enough now for the
Herbivore

shawl
.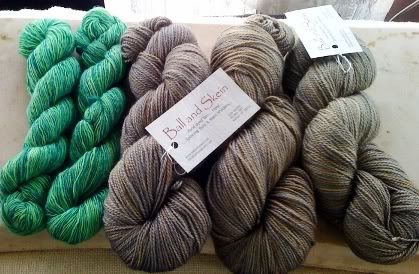 As the rain moved more and more people inside the barns, my phobia of large crowds kicked in and I got more and more uncomfortable. I was trapped between a big group of chatting woman, a single file line of shoppers pushing me from behind, and a very grouchy elder woman who wouldn't go around me, but seemed intent on actually pushing
through
me. I had to turn into the group of woman to create a little space for her to pass. As the Elder shoved me from behind, she shouted an insult at me for all to hear. I think the unrelenting dark dampness and the crowded barns might have tried people's patience a bit. But that was it for me. I longed for my cosy house and a cup of tea. I wandered around for just a little more, and left at about 1 pm.
Before I went, though, I found what I'd been searching for. Here is my new perfect
Lucet
- it's in Walnut - from
Goldings
, and - my most gorgeous Nostepinne in Cherry wood from Ball and Skein!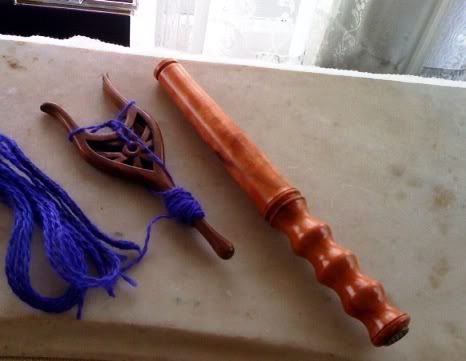 I was sick all the next day, so didn't go back, and missed seeing all my friends there. But all in all it was a good fair day and I'm so grateful that so many regionally local artists braved the rain to bring us their beautiful fiber goodness!