I had a great find in the charity shop this week for just $4 - The Tuxedo Baby Bootee Pak: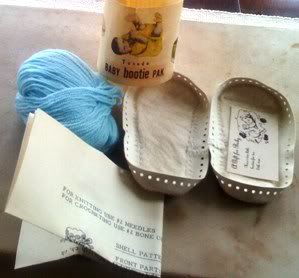 This was a prepackaged knitting kit for baby bootees with soles. I have this 1930's booklet in my vintage knitting collection that helped me to identify the company and the era...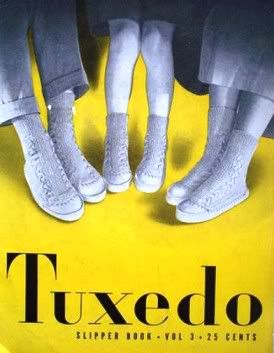 The Tuxedo company specialized in replaceable soles for slippers and apres-ski sock-boots and had kits for all ages. They are no longer in business, sadly. Based on this bootee kit, they had this down to a science! I especially love the soft felt-lined soles:
They even included a little gift card to give with your finished product, similar to what
Kim Hargreaves
does with her (more elegant) knitted cl0thing knits today.
The kit came with four patterns to choose from and enough yarn to make one of these. The patterns included a simple garter stitch bootee and a pretty shell stitch crochet version, a Mary-Jane sandal pattern, and a tall cabled shoe.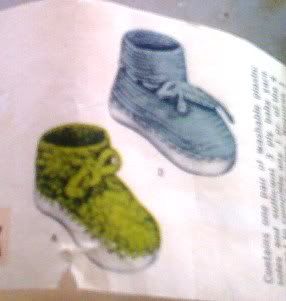 Soles like these, but in suede, (and without the soft attached felting) can be found from Fiber Trends in all sizes. My local yarn store carries them, as does Webs, which has an online store. Leave a comment if you'd like me to post one of these patterns so you can have 1930's baby bootee replica too!