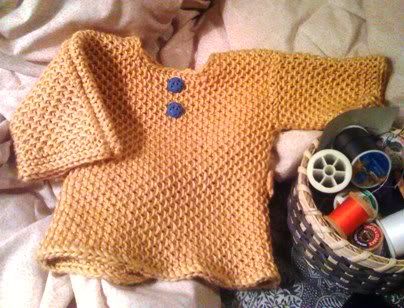 Baby Wrap Sweater from
Greetings from the Knit Cafe
Yarn: Classic Elite Premiere, cotton and tencel
2 skeins
(the directions say 4 skeins - I had exactly 3 feet left from two skeins)
Needles: size 5 dpns and size 20" 5 circular
As I said before, I decided not to knit the ties because I thought a big knot in the front or the back would be uncomfortable for baby. I made buttonholes in little side tabs that would button under each arm.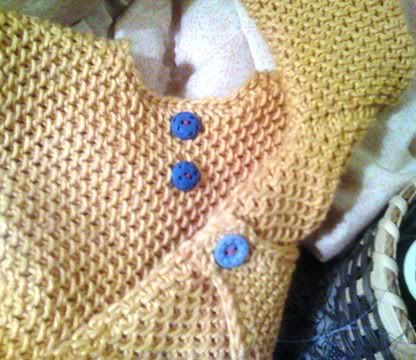 My buttons on either side don't match the buttons trimming the front, but since they're vintage, and from my grandmother's button tin, I still think they're charming...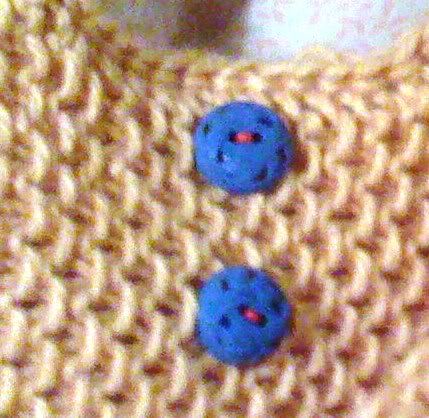 Next I have two red WIPs to finish: the BSJ with hood, and my own design for a big soft cardigan that I've been working on since Christmas. I liked it - didn't like it - liked it - didn't like it = planned to frog it and stuck it in a bag for a few months, pulled it out and suddenly liked it again. So now I just had the pockets, buttons, and weaving-in-of-ends to do and it will be finished!
The sheep and wool fair is only three days away. I was so excited as it got closer, and then I realised that economy issues mean that I won't be able to participate with any degree of abandon. I can look and enjoy but will have to calculate just a few purchases very carefully. I'm sure I won't be the only person in this situation. I do want to get a fleece for the baby's cradle though and hope I can find a nice one this year.
This, and the rain, have gotten me down. A couple of days ago my cherry and crab apple trees were in full bloom. Now the raindrops have beaten the petals from the branches and are working on the lilacs and the forsythia. The scent of lilacs is my favorite of all the year and I like it last as long as possible. Don't you love it when you're walking down the street and the scent of lilacs follows you from a blooming bush in a nearby yard? It's especially beautiful at night when you can't see the lilac bushes there, but can see them in your mind's eye because you can smell them...