I spent some time by the water this past week...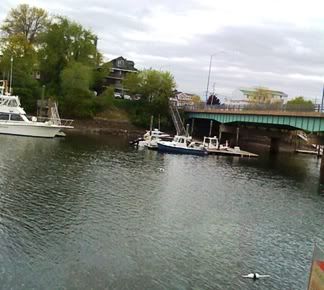 This is Portsmouth, an old coastal town that is full of good shoes, good yarn, and great popovers. There might be lobsters. Just maybe. But if there are, I'm not telling.
We were supposed to spend the week in Maine, where there are also great popovers and yarn and lobsters, but the cat got a massive ear infection (the vet said it was so bad that Catherine was having headaches - imagine, a cat with headaches!) and one of the dogs sprained and inflamed his knee ligament and had to be on steroids and morphine and carried in and out of doors three times a day. So we spent the week nursing the sick and injured, going to cheap matinee movies, taking short day trips to the coast and scraping together $600 for vet bills.
I played with fiber. We met some friends in Portsmouth and one of them is just learning to crochet. We decided to make the Luna Lovegood scarf at the same time. She did hers in a Rowan tweed - brown with pink and yellow bits in it. I used BMFA Socks That Rock lightweight in one of last year's Club colours,
The Incredible Shrinking Violet
.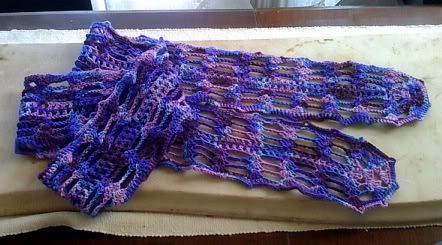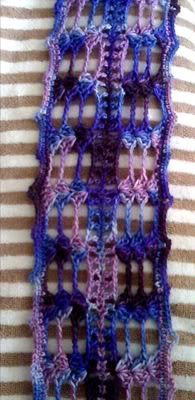 This was an incredible time-shrinking project! I mean it went so fast that I was done by the second day. I used half a skein (approx 180 yards) with an F hook. If I made this a second time, I think I'd go down a hook size and on the first foundation row I would single crochet instead of double crochet.