For me, Spring has only really arrived when the Sheep & Wool festival arrives.
My first experience with this fair was about 8 years ago, when it was held in a hilly field surrounded by woods on the back road to Milford (or at least that's the route I took to Milford). I went with a friend and my little sister. My friend, Nancy, was not a knitter nor a crocheter but she loved pretty things with a passion and had an acquisitive sense that so far has been unmatched in anyone else I've ever met. I mean this in the best possible way of course, and I can say this because we are still friends!
It seems so long ago now, the 90's. Fun fur scarves were still popular and silk chenille yarn was reaching rock-star status. We came upon a booth that sold this yarn in hand-painted versions so beautiful they rivaled the wild flowers...
My little sister clamored for the purple skein, and I - of course - chose one of mixed pale greens. Suddenly, there was change in the temperature. It was like that scene in Sleeping Beauty when the wicked queen appears and the sky darkens. We moved on - the field was blossoming with hundreds of versions of colourful and subtle yarns: enough for a nation - , but the silence was a silence like the eye of the storm.
At the end of our time at the fair, I commented to Nancy, "
You haven't bought anything! Didn't you see anything you liked
?"
"
I only saw ONE yarn I liked
." she shot back sullenly, "
and

YOU

took it
!" Needless to say, this yarn featured in her Christmas present that year! :)
Now I go to the Fair alone in a feat of deception that borders on misanthrope. As the Fair day approaches, I become quite cadgy about my weekend plans. "
What are you doing this weekend
?" I'm asked.... "
Oh, I don't know
, I say,
My yard needs an overwhelming amount of raking and my house is an abysmal mess
!" (Canny researchers on deception say its always a good idea to use the truth as misdirection rather than an outright lie)
The Fair is held in the Hopkinton Fairgrounds now - a much bigger and more organized venue and much closer to me. I sneak out of the house early - before anyone can call - and wait at the gate. This year I arrived at ten of 9 and the gate was open. I was the 5th car in the lot and the ticket booth window was just opening as I approached from the leaf-strewn path through the woods and over the merry brook's wooden bridge. This is how I know I was the first customer through the gates. Vendors were still uncovering their booths and tents and arranging fibers from the backs of trucks.
My plan was to hit
Zeilinger's
as soon as humanly possible because last year they were selling a small amount of spun buffalo for an absurdly low price and I was able to snatch it up. This year, alas, no buffalo, and I moved on. The next booth was A Touch of Twist (from NY) and I captured some unusually soft and vibrant lace-weight alpaca for a couple of Ravelry friends who have been uncommonly kind to me. Some for myself too, you ask? Bien sur!
I looked at the goodies displayed by the Rolling in the Dough Bakery about 5 times, (driving the nice girl overseeing the booth crazy I'm sure) but resisted on the theory that
chocolate + hands + yarn = NO
. I did pick up a blueberry pie on my way out though, to bring back for my boyfriend. Though he - inexplicably - didn't subsidize the yarn-buying this year, like he usually has, he is deserving just for general kindness.
My next stop was
Ball & Skein
, a booth that I didn't find until my very last stop last year when she was out of yarn and I was out of money! I picked up the Artisan Merino & Silk (in greens) - enough skeins for a light summer cardigan. Our summer here lasts for about 3 days in July, so sweaters all year are the norm. I confess that I also brought out the big guns (the "Card") to get a few skeins of this-and-that for friends or future swaps...
About an hour had passed, so I hurried over to
The Irish Ewe
, to try to meet up with my new friend
Brian
. I touched and examined and touched again (see? be very happy that I hadn't eaten that chocolate covered croissant on the way!) every item in the white tent, that was set up like a cosy yarn shop. These Lovelies found their way to the cash register: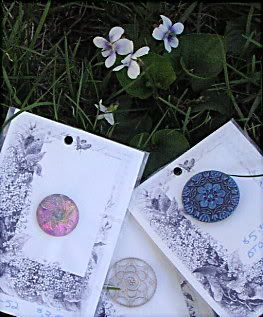 as did a smart little handmade wooden tool for measuring wraps per inch. I would go back to the booth twice more throughout the day, but never did meet up with Brian.
I then rolled through the several barns, each with its booth after booth of fiber goodness. At
Foxfire Fibers
I did major damage to the budget when I found their basket of Sale Yarns. You didn't see that???? That's because...
I bought it all
!! Bwahahahaha! (no, not really, but my big bag-o-yarns would say differently). One again, a silk & merino mix, bulky weight this time, jumped into my bag to become a summer sweater-jacket. I also picked up some random discontinued sock yarns and the Very Nice Lady showed me the beautiful sock that she was currently making with the very same yarn. I got the Wintergreen Mitten Kit in "drake" and "moss" and the
Bird in Hand
mitten pattern for my boyfriend's mother, who is said to be a consummate knitter but whose work I've never seen.
After a brief sit-down with a lamb and vegetable wrap and a cup of frozen apple cider, I found the last barn on my search and
Carolina Homespun
. Last year, my first year buying from her, I got the chance to experience Nature's Palette sock yarns - the colours so subtle and flower/jewel-like - and I wanted more! Instead, I discovered the one-of-a-kind colours of a small-business sock yarn designer that Morgaine was displaying. Each skein (155 yards) was beautifully dyed on a base yarn similar to Koigu or Louet Gems - tightly spun and glossy superwash. The price was correspondingly small (around $12 per skein). I walked through this display case picking flowers of yarns, which I hope I can quickly knit and crochet up into short summer socks to wear with my Birks!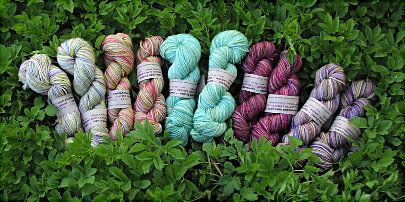 Another treasure Morgaine displayed in a little box almost hidden from view was a variety of lace yarns and although I coveted about six of the colourways, one made it home with me (can you guess which colour I chose?):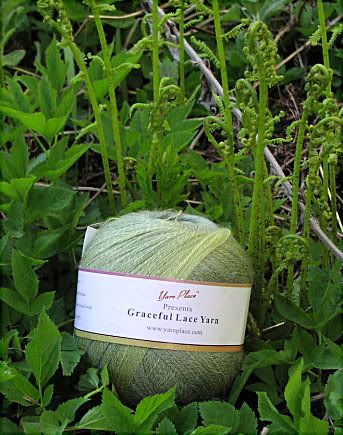 This is destined to be a shawl of my own design, based on a Luna Moth that I found one night in front of the old bookshop on Warren Street.
I have more to share about the fair and photos of good things that wanted to come home to my house, but I'll save that for another post.