A couple of days ago, I finished the scarf I designed to commemorate Sausage.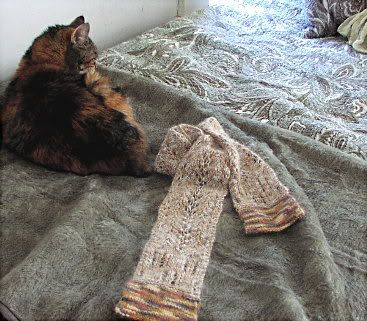 The ends are Louisa Harding Kimono Angora, and the lace section is Louisa Harding Impressions. The angora part is a wide hem stitch, so its double-sided, and then there is a lace section of his little paw prints. The main body of the scarf is a lace pattern called "Willow Leaf" and along the edges of the willow leaves, I have little white pearls (these represent my tears). It turned out the way I was hoping, but the Impressions yarn isn't as soft as I would like. I'd like to try this pattern again with a different yarn. I was planning to submit this pattern to one of the online knitting mags, but I think it needs refining, so will hold off on that this season.
Now, I am going to eat cherry pie and read and knit! Sunday. Such a good day of the week!