Look what showed up on my doorstep today!!!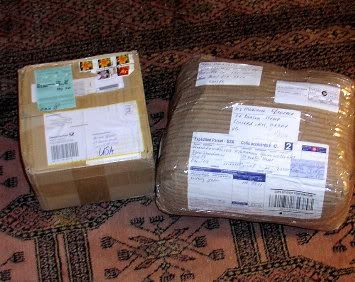 The first bundle that looks very much like the bundle of wool it is, is from Headwater Farm in Ontario. Look at this lovely yarn!
The dark green lace weight is called Ilga, the light green is a DK weight, and of course some self-striping sock yarn. The sock colours are really in autumn colours – I thought they were green and grey and gold from the monitor picture, but they are brown and orange!
But the un-spun batts! OMG! Look at these beautiful yarns of unspun wool for making the true traditional feather and fan shawls. There are some patterns for this traditional yarn in the book Folk Shawls. I tried to make one a year ago, but was using some big cone of some mystery yarn I got at the thrift shop and it didn't look the way it was supposed to. Now I have the real thing – and in the incredible natural colours, too! That big batt of natural white? $3.50 Canadian for the whole batt! And I got 2 of them!
Canada, O Canada! How I love thee for thy incredible yarns!
Now the next one, is the mysterious much-anticipated package from Nadine, that traveled across the ocean! It is dated August 29 on the customs slip! Well 6 wks isn't unexpected but when you are waiting for Nadine's surprises...each week seems like a year!
OOOOOooooo on the customs slip it says something else, too!
Schokolade!
I think this is chocolate in German!
What beautiful things… now this is the sock yarn colour that I really love – a lovely soft blue in very gradual colour changes… And this chocolate! I am eating a Sarotti Stille Affel-Vanille feinste vollmilch schokolade right now this very minute. Mmmmm hmmmm mffffh…. (yum) Oh my, this is incredible! The apple is all spicy and melty in the middle of the chocolate. But look at these: tiny, tiny glass apple and pewter teapot! I will make them into stitch markers, which is what Nadine intended, I think.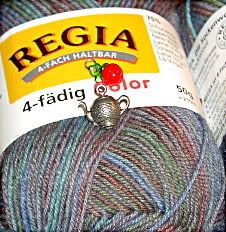 But I can't show the rest of the contents of the box or even what category it is in, because they are intended as Christmas presents for someone who might read it here…
Thank you Nad – this is a very inspiring box!