...a most wonderful trip to the ocean yesterday, with my sweetheart. After some initial concern that the little dachshund would be okay alone all day, and arranging a visit from his pet-sitter in the middle of the day, we were off on adventure! We went here, in Maine: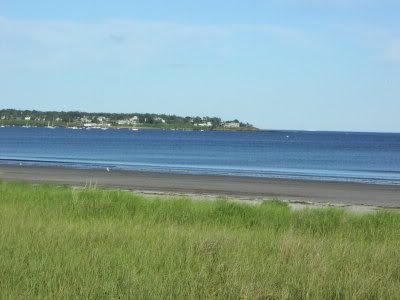 we found fresh-picked strawberries at a roadside stand, ate lobster stew in a little country kitchen restaurant and shared a piece of homemade strawberry pie, got our feet wet dancing in the ocean waves (I found a pretty scallop shell), and when we were sated and sleepy from the salt air, visited book stores and yarn shops...in the secondhand bookstore I found a rare paperback by the author of
Maus
and will send it to J. The yarn shop was disappointing, although I did manage to buy some black sock yarn - there was not one variegated yarn in the entire shop! No lie! All the yarn was solid colours! Can you imagine??
The rare day and evening with my sweetheart was so great (and he did all the driving) - it seems so long since we spent a whole day together. It was wonderful (I already said that, didn't I?)
On the knitting front, I finished this: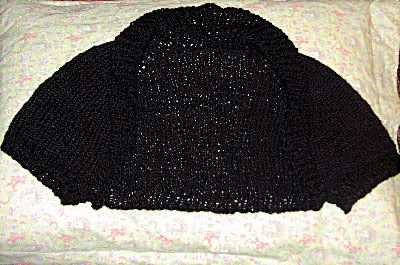 The Shoulder Shrug from Fiber Trends - AC-79, in Manos del Uruguay Stria (cotton). Detail:
Stria is very wavey and soft and this came out fluffier than I wanted. My plan was for a lightweight shoulder wrap that would be good on a warm but breezy day. I'm making the pattern again, but this time using Berroco Zen cotton ribbon yarn. Its coming out much lighter in weight. This time I think I'll make the edging in picot...
I wanted very much to make a prayer shawl for the Professor before she went to Lumos, but there is not enough time. I'll make it sometime though...She's never mentioned wearing or wanting a shawl, but I imagine her curling up in it to do her spiritual reading in the mornings... I plan to design it especially for her, and to use both trinity stitch and rosary stitch.
I'm also working on a pair of white socks for my Deacon friend, Daniel, to wear in the chapel during priest training, but I made them too small. I have to rip them out and start over. I read in the Yarn Harlot's book,
Knitting Rules
, that if you want to surprise someone with a pair of socks you can measure their arm from elbow to wrist and the length of the foot will be the same! Ahch!
I shouldn't have told you that!
These socks will have some embroidery on them.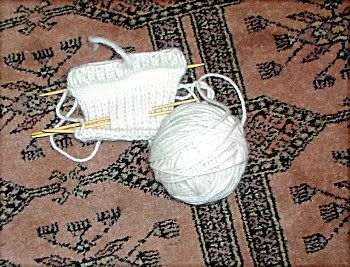 I have not been able to find the yarn that Marky wants for his fingerless gloves (its Winter now in Australia!)...I check in every yarn store I visit...so hope to get these done before his Spring begins!
and...I plan to make a pair of socks for a friend using Lorna's Laces Aslan yarn...except that Littleknits.com did not send the Aslan. They said they didn't have two skeins of the same dye lot. So, I have to search further before I can start these. I've decided to use Lorna's Laces Shepherd Sport in Baltic Sea for the vintage sleeping socks that Nad and I are making in our little KAL (knit along)....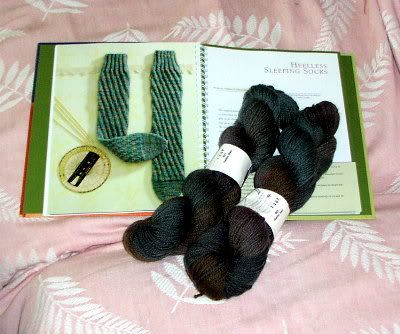 "A Green-Winged Longing"
~Rumi
This world of two gardens, and both so beautiful.
This world, a street where a funeral is passing.
Let us rise together and leave "this world,"
as water goes bowing down itself to the ocean.
From gardens to the gardener, from grieving
to wedding feast. We tremble like leaves
about to let go. There's no avoiding pain,
or feeling exiled, or the taste of dust.
But also we have a green-winged longing
for the sweetness of the Friend.
These forms are evidence of what
cannot be shown. Here's how it is
to go into that: rain that's been leaking
into the house decides to use the downspout.
The bent bowstring straining at our throats
releases and becomes the arrow!
Mice quivering in fear of the housecat suddenly
change to half-grown lion cubs, afraid of nothing.
So let's begin the journey home,
with love and compassion for guides,
and grace protecting. Let your soul turn
into an empty mirror that passionately wants
to reflect Joseph. Hand him your present.
Now let silence speak, and as that
gift begins, we'll start out.
~~~~~~~~~~~~~~~~~~~~~~~~~~~~~~
the journey home: