Hooray! I finally finished the Bistro Shirt! Here it is blocking on the table...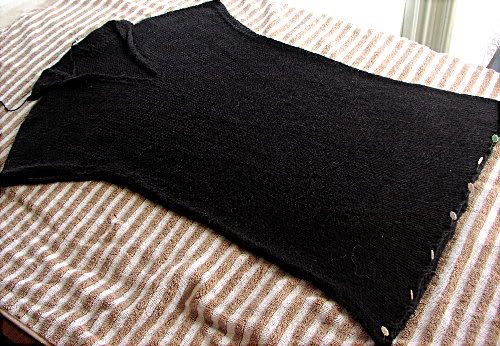 I made some alterations, making it 2 inches longer in the waist and quite a bit thinner by using a size smaller needles, (although it was a size small, it was just too 'boxy' and drape-y). And, I made a collar on it with a tricky lace stitch on the border...
Now I have to weave in all the ends. I used Classic Elite's Cotton/Tencel blend so it would be washable, but it was really hard on the hands to knit with - my skin is all torn along my front fingers. The LYS used Bamboo yarn for this pattern and it was beautiful, but too pricey for me. I got the other on sale and it took five skeins.
And
here
Ta Da! is my ***new*** Aurora Swift!! I love winding my yarn into balls in five minutes instead of five hours! hooray!!! broke now, but happy.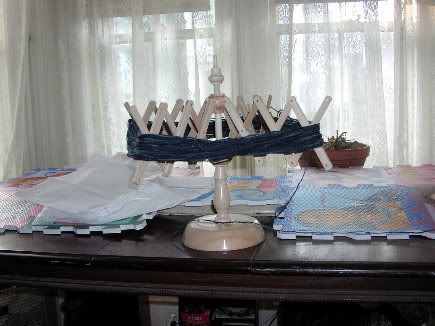 I ran into a friend online yesterday, and we ended up going to
Ewe'll Love it
, a LYS a few hours away where I gleefully talked her into a wonderful knitting project and promised to help her when she gets to the collar. She bought 100% baby alpaca in a gorgeous buttery yellow for a summer pullover. I bought a skein of Cherry Tree Hill sock yarn in colours that remind me of geraniums and some lace yarn on sale and a Rebecca pattern magazine (which are very hard to find in the US) and scored two free lace scarf patterns! But I fell deeply in love with the $100 Plymouth bamboo interchangeable circular needle set and will be saving my pennies to get this for myself for Christmas.
We were at the store for 2.5 hours, because there was a comfy couch and lots of knitting books to thumb through. The store owner was an older woman who was really low key and nice and taught us a million things just by talking to us about knitting - things like 'when winding with a swift, wind slow and loose so you don't stretch the yarn' and 'run both ends of a skein of yarn through your fingers and start knitting with the end that feels and looks smoother because this is the nap of the yarn and if you do it the other way, it will pill" and 'when you wind a skein on a swift, it's usually - but not always - the outside end that is the one to start with, even though people always tell you to start with the center end to avoid tangles'. After we left we looked at each other and said, "that was just like a visit to a good friend, except...without the tea!"
Yesterday I also visited the nice people at Home Depot where they cut up pieces of wood for me and marked them with pencil so I can put stairs together like putting together a dress pattern. I think I can do that. If I can, I also want to make a ramp for Sausage because its getting so hard for him to get up and down the stairs when he goes out.