Pictures of the knitting: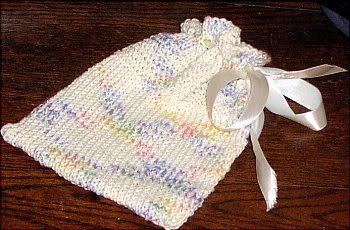 I didn't use a pattern but I think I cast on about 64 stitches and knit on size 7 needles. The yarn is cotton. The top hemming was done with 3 rows K, 1 row P, 3 rows K. I did a simple K2tog, YO, K2tog to make the eyelet for the ribbon drawstring and then knit every stitch the row after that, switching to stockinette stitch until I got the the band of Garter Stitch, then switched back to stockinette after a few rows. The grafting was especially hard - I must have frogged five times! Finally I used the bind-off graft, where you bind off half and have only half of the stitches on the needle. Then you can do the Kitchener stitch more easily because you can see the stitches on the bound off side.
Today I am going to look around for the right colour yarn for the bodies of the little finger puppets. I have all these ideas in my head and I'm exciting to bring them out onto the needles! (Oh, the obsessions of knitters and crocheters!! LOL)
Going to meet a friend at a little European-style Cafe today - ooooo! And there's a bookstore!