I have a bit of an eclectic post this weekend, as life has been decidedly... crazy! The boyfriend and I visited his folks again for a combined Mother's Day and Father's Day, and this involved a trip to another fabulous Cape Cod restaurant. Unfortunately, I've completely forgotten the name already! It was kind of a whirlwind drive down and back...
I love the thought of living on the ocean all year long, in a little grey-shingled cottage with green vines around the entryway... sheep in the backyard, walks on the beach across the street, salt roses lining the flagstone walk.... that's really how they live!
The restaurant had a beautiful entryway too, with stained glass windows: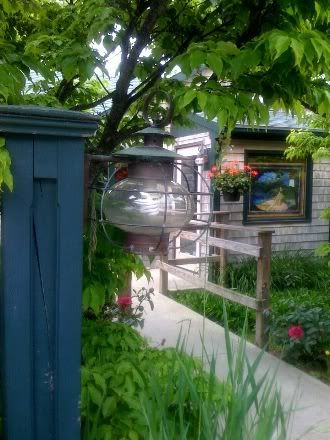 and inside, artist's renditions of the local waterways covered the walls:
I think we all ordered their special lobster roll, which was served hot, tossed in melted butter on a croissant that had been sliced and grilled with butter on the inside. Calories to spare! For dessert we all shared one piece of 3-layer
Limoncello
cake.
My week was also full of arrivals. I got my Ravelry Celebration
Contest Winner bags
, my shirt, cup, and cards of the
Bird-Pulling-Yarn design
, and a bag of the hilarious
Party Animals
!
The last thing I want to share is that a new edition of Interweave's specialty magazine
Knit Wear
is coming out shortly and I wanted to do a little review so folks didn't miss it. The
premiere edition
was so stunning to me that I want to share the love!
This magazine is described on the cover as "simple handknits for the thoughtful knitter" and by this, they don't mean simple to knit. But the lines and styles have that simple elegance: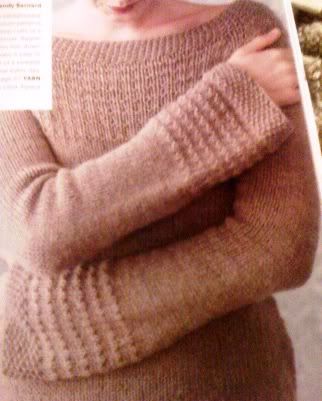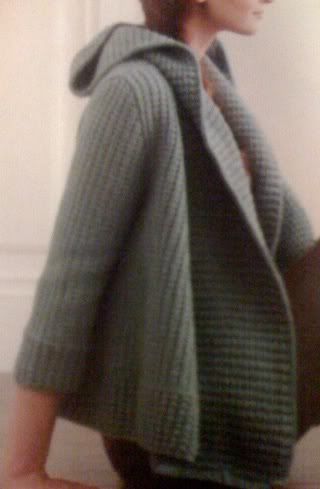 The blue sweater above is knit with
Quince Yarns
Osprey chunky weight yarn so it would knit up fairly quickly, which is a plus.
This magazine was planned by Editor Eunny Jang, and she describes it as being all about
authentic luxury
- which to me means clean lines, good-quality yarns, and classic long-lasting style. I'm eagerly awaiting the arrival of the newest edition and I need to start planning some actual projects!
And on a last note, my Camp Loopy Herbivore is coming along and I'm just about to join the second skein. The pattern doesn't call for 400 yards, that's one of the requirements of Camp Loopy's first project, but it does make it more shawl-less scarf and that works for me!