Good morning! I hope you have a nice cup of tea, because this looks to be a long and picture-laden post! I'm going to show you my small collection of 1800's and early 1900's beaded bags, show you some of my vintage pattern books with their bag pictures and patterns, and - if my typing fingers hold out - a nice surprise at the end.
I've always been fascinated by those intricately beaded designs on little bags that were popular and useful items for over 100 years. I've seen them in my early 1800's knitting and crochet manuals right up through the early 1900's. Even in the 30's and 40's there were simpler versions of these bags in pattern magazines but their popularity was waning.
These covers from my 1920's Fleisher's manuals show the types of bags still used then, but less as chatelaines and more as project-bags: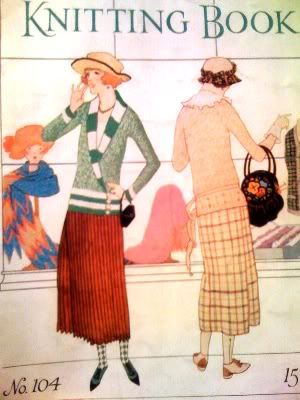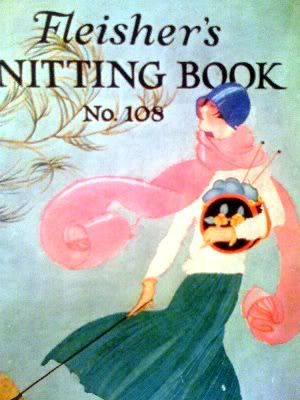 Corticelli was another company that produced silk knitting and crochet threads and created pattern books to go with them. This reproduction Corticelli booklet from
Iva Rose
was originally printed in 1917 and is full of designs in the popular bright colours of that era as well as a few of the earlier bags in bead crochet and filet crochet.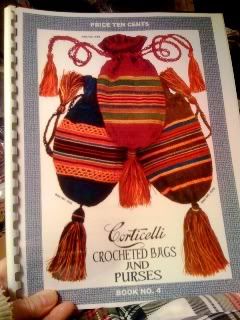 My Heminway & Sons Silk-Craft manual also has a variety of these bags but from decades earlier. Heminway, established in 1849, also manufactured silk knitting and crochet thread - a laborious and exacting science in those years:
I have some original spools of this knitting silk in my collection, and from experimentation I've found that Perle Cotton size 5 might be substituted for some of these patterns, and comes in as wide a variety of colours as the early silks. You need something with a twist for durability (the original spools were called "Silk Twist") but thin enough for threading the tiny, tiny glass or steel beads.
My earliest bags are beautiful examples of the glass and steel bead crochet. Some are simpler geometric designs, like these from the 1800's using cotton twist and faceted bronze-coloured glass beads. I love the big beaded tassel on this small bag: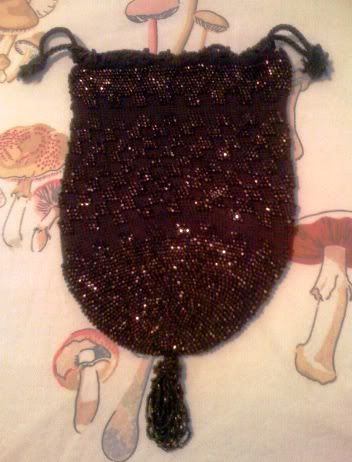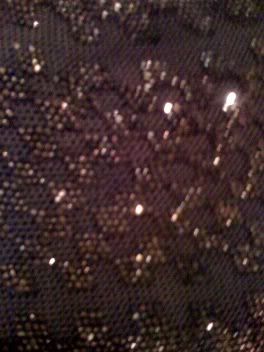 and this larger bag with its beaded, turned-down collar and celluloid rings that the drawstring loops through: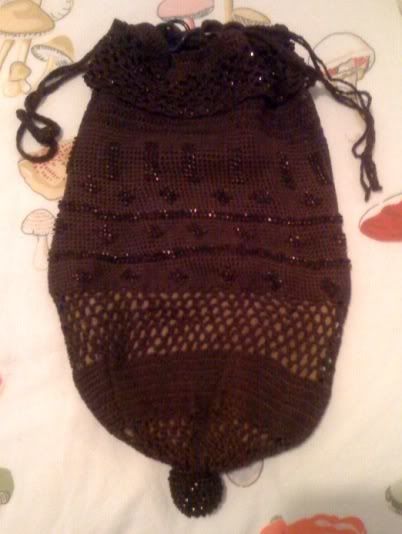 This cream silk twist bag has rows and rows of beaded swags and beaded diamonds and a tightly crocheted, beaded ball-and-tassel (incredibly, I found it at a charity shop with a $5 price tag in a box of purses. I did tell them it was mis-marked and paid them a fair price for it):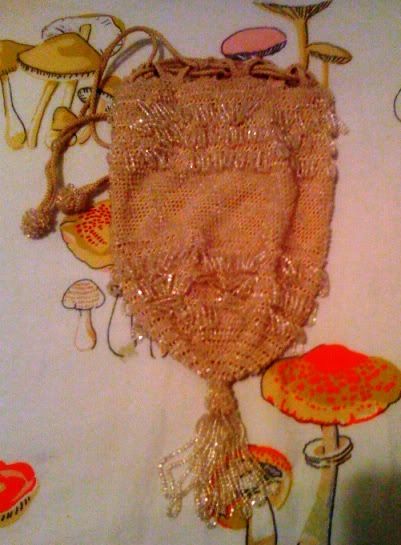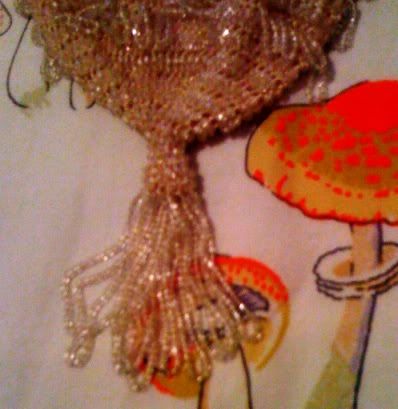 This magnificent example is in navy Silk Twist with steel/precious metal beads: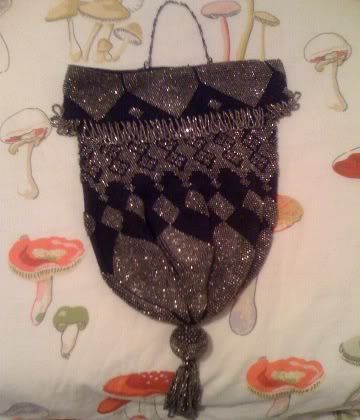 It's incredibly heavy - like carrying a brick of metal - and maybe that is the reason that there is no wear or flaw of any kind on this bag, even though it is at least 100 years old. An antique appraiser told me that the beads were sterling silver.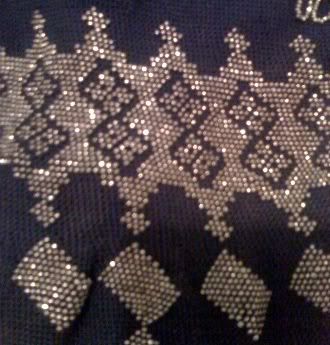 This bag also has rings, silver ones, for the drawstring...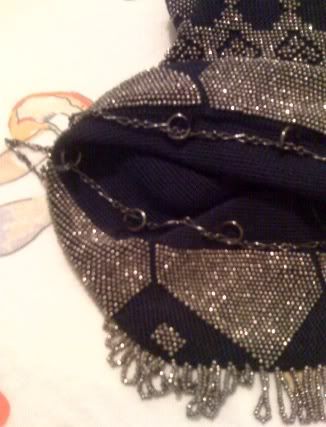 But the drawstring is a chain - as delicate and intricate as a silver necklace - beautiful!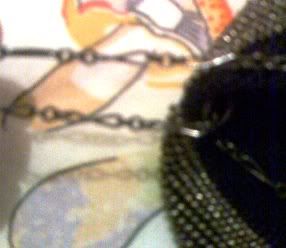 The Heminway Silk-Craft book has a pattern for a silver-bead style bag, not as elaborate in design, but a pretty example: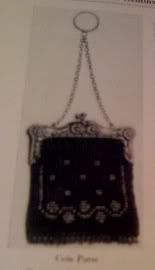 It also shows patterns for the cotton crochet bags, with beads used just for the poesy design: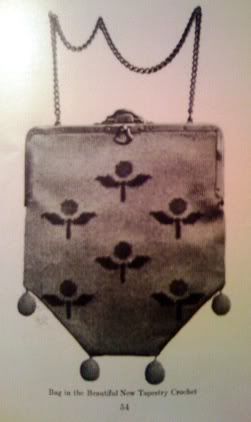 But the King and Queen of my little collection are the silk "beaded picture" bags: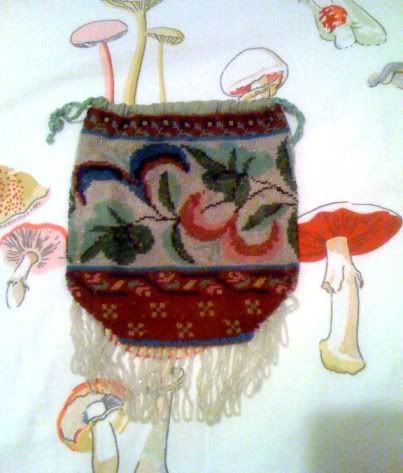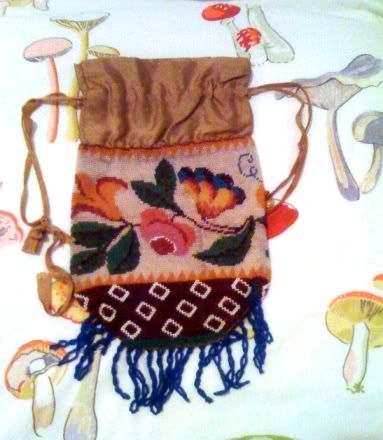 These bags use such tiny crochet stitches and the glass beads themselves are minuscule. There are at least 45 beads to one inch in this example, and hundreds in a round.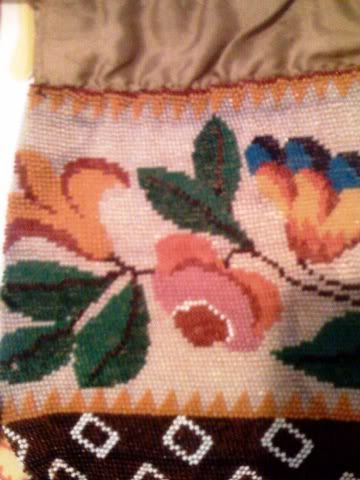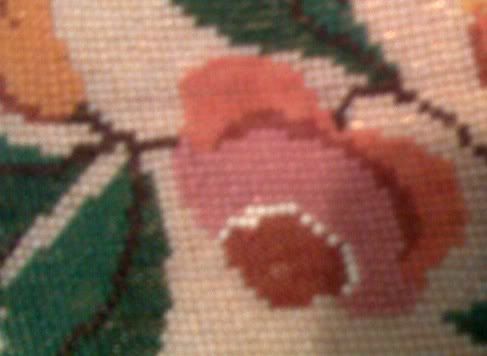 The Heminway booklet has one pattern for this type of bag. I imagine it would take a year to complete it - the pattern alone is 11 pages long! The Oak Leaf and Acorn bag:
It uses 2 and 1/2 spools of silk twist, 7 skeins (beads threaded on string) of black beads, 5 skeins of bright yellow beads, 5 skeins of dark yellow beads, and 2 skeins of red-brown beads. The directions that follow give exact instructions for threading every single tiny glass bead onto the silk twist in a colour configuration that will result in the design pictured, similar to hand-painting yarn before knitting it. Then a tiny crochet stitch is made in between each and every of those thousands of beads to create the fabric and the beaded design. Each bead has to be threaded in exactly the right sequence in order for the "picture" to materialize - Amazing!
Well, I do have a related pattern for you, but I've run out of time so that will have to wait for the next blog post. If you have ever tried beaded crochet, let me know - I'd love to see your projects!