Good morning! (a special good morning to my friend Nad across the ocean!) I hope you have a nice cup of tea this morning, or evening, wherever you are because this is going to be a long post about vintage booklets and lace patterns.
We were supposed to have a cosy but not too severe snow storm last night, with several inches of snow and so I thought it would be a good time to pull out the old knitting and crochet books and have a nice look-though with a cup of tea. I had such a fun time looking through them again and again, and picking out my favorites to show you!
However, the snow storm never developed - which is a good thing for me with my long driveway! We had these sunny skies instead: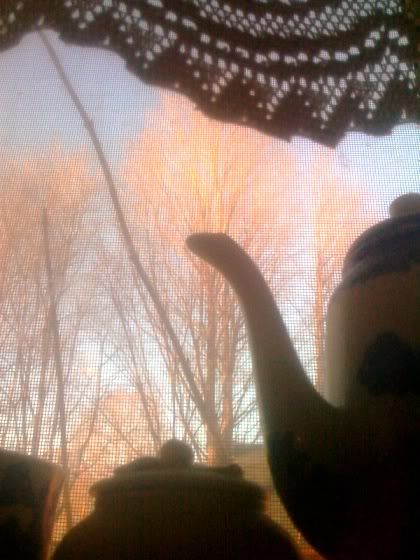 I should have gone outdoors for more than a couple of dog-walks, but the indoors cose was so soul-restoring for all that!
The books I have to show you are old ones: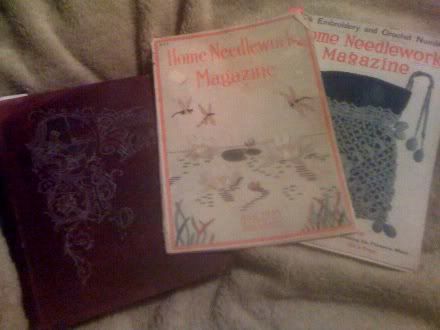 Dainty Work for Pleasure and Profit, 1901

Home Needlework Magazine, Feb-Mar 1912

Home Needlework Magazine, Aug 1915
The magazines themselves are works of art. I really love this aspect of vintage books and magazines. They strove to make the outsides as creative and inspiring as the insides. Rather than try to "hook" you with snappy catch-phrases and current watch-words, they highlighted one of the patterns that was contained inside, or they employed a current artist to draw a gorgeous scene. The August Home Needlework displays an enlarged version of one of the silk embroidery patterns in this issue, dragonflies, waterlilies, and cattails...
Even the ads are works of art, often illustrated with artist's ink drawings. The only place that has such beautiful ads these days is Ravelry (and sometimes Etsy)!
The Corticelli Kitten:
I love the art-nouveau border on this crochet cotton ad: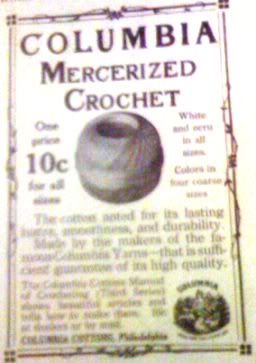 But my first reason for searching through old books to begin with was to find some pretty lace trims to crochet. I do love knitted lace, but there is something about those crochet picots and shells that just makes me happy!
Many people, when they think about old lace, think first of filet crochet - and it's true that filet is gorgeous and there are so many ways to adapt it. Take this beautiful tray mat, for instance: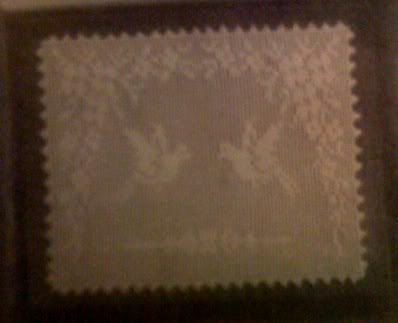 Although it is designed for a small mat for serving, it would be so perfect to keep repeating the motif and make a kitchen window half curtain! All you would need to do is sew a series of those old bone rings across the top, or even crochet a series of loops - anything for the spring-rod to go through. It would be an even more beautiful baby blanket, crocheted in a soft chunky yarn and lined on the back with a deep blue flannel to look like the birds were flying through the sky!
Just in case anyone would like to try any of these ideas, this might help:
Many of the lace patterns in my old books were used to make panels that either were inserted between panels of fine cotton lawn for petticoats, or were sewn together side by side for bed-covers. This is a good example: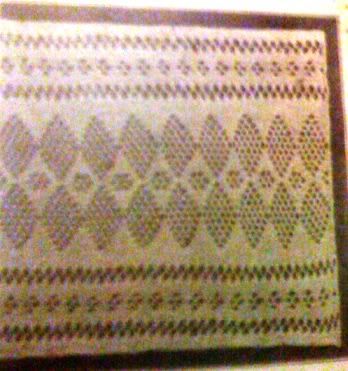 and the edging to go around the border is one of my favorites: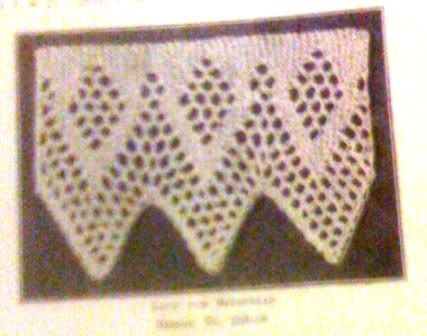 It would be really pretty as the edge of a baby's bedsheet or on a pillowcase as a gift, wouldn't it?
This is a classic edging for cotton nightgowns and pillowcases, too: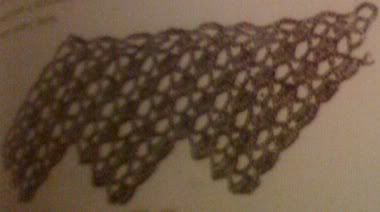 And I particularly love this one because it reminds me of seashells from the beach:
Some trims are complicated and combine several different types of crochet stitches back-and-forth to complete the entire design, like these, but they are well worth the results!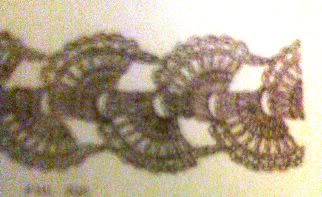 That last one, of off-center fans, I did try to replicate for you in one of Blue Moon Fiber Arts' silk yarns... but turned out so wonky that I pulled it all out by the end of the night. The directions leave a lot to the imagination and experience of the lace worker, who is supposed to use the drawing as a guide. I know I can master it, but it will take a little longer than I was willing to spend last night!
It's the little tiny trims that I love best. I really like changing up old patterns by using new colours and weights of yarns and wished that I could have summoned enough energy last night to sample these little lace patterns in some bright cotton threads to show you! How pretty these trims would be in Pond Scum Green (one of my favorite new colours), Tomato Red, or Butter Yellow! Here are some unfortunately blurry little photos of the tiny edging laces from the 1901 book: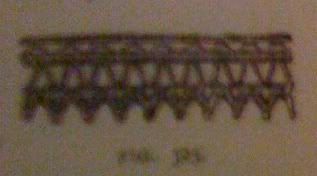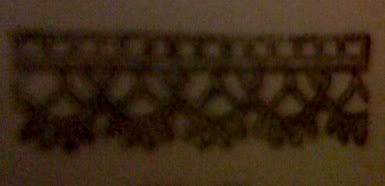 I'll share one last one, with it's precious little bell flowers, with you here. It calls for crocheting into the picots of a "fancy braid" but you could achieve very similar results by starting with a crochet chain and picots. I hope that if you try it out, you'll post a comment here with a link to your results!
Edging No. 2, 1901
1st Row - 3 tr. into 1 picot of fancy braid, 1 ch., pass over 1 picot and repeat.
2nd Row - 1 dc under 1 ch., 5 ch; repeat.