"Now trees their leafy hats do bare,
To reverence Winter's silver hair;
A handsome hostess, merry host,
A pot of ale now and a toast,
Tobacco and a good coal fire,
Are things this season doth require."
-- From "Poor Robin's Almanack," 1684.

I have miles of knitting to go before I sleep. That's right, I haven't finished my Christmas knitting and the time is drawing near when my knitting will be officially
late
. Christmas boxes have been mailed - sans knitting - and a kind of sub-aware knitting panic has set in. I rise early to knit, and then spend 2 or 3 hours on the webz looking at everyone else's wonderful gift knitting while my little project bag rests quietly beside me...
I drink tea...
from my wonderful new Winter Robins mug...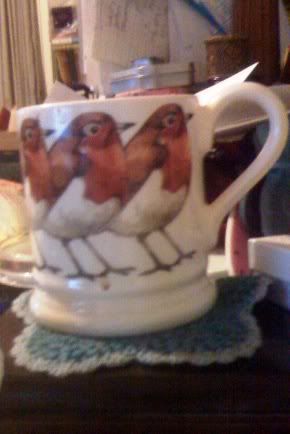 I plan future, post-holiday projects...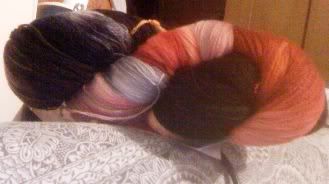 and peruse websites for
knitting gifts
I'd like myself....
I make ornaments for our tiny little tree...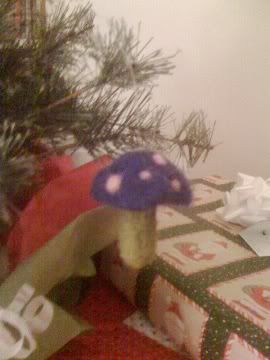 and I bake the Christmas bread...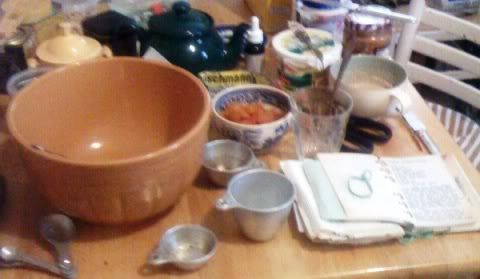 But what I don't do is finish the Christmas knitting, as lovely as it is. I am very close to finishing. An hour here, two hours there, an embellishment, blocking - all of these things would create the finished projects I desire. But my will-power is exhausted and my mind just craves a period of marshmallow-y old holiday movies. How to call my knitting energy back again? I know! I'll have a cup of tea!
Whose woods these are I think I know.
His house is in the village though;
He will not see me stopping here
To watch his woods fill up with snow.

My little horse must think it queer
To stop without a farmhouse near
Between the woods and frozen lake
The darkest evening of the year.

He gives his harness bells a shake
To ask if there is some mistake.
The only other sound's the sweep
Of easy wind and downy flake.

The woods are lovely, dark, and deep.
But I have promises to keep,
And miles to go before I sleep,
And miles to go before I sleep.

~ Stopping by Woods on a Snowy Evening
~ by Robert frost