This summer I went to Summer Camp - virtual summer camp!
The Loopy Ewe
(a very addictive yarn store - and so much more!) decided to start Camp Loopy 2011 for those of us who couldn't actually get away. It started on June 15th and ends on September 15th, so is still going on. The premise is that each camper participates in 3 knitting challenges - each for one month, meeting deadlines and making them eligible for a lovely prize at the end... a skein of
Wollmeise
.
The first project challenge was a 2-colour project, the second was a cabled project, and the 3rd was a project using at least 800 yards of yarn. I decided to use these challenges to get a head-start on gifts, but I have already given the second and the third (unfinished) projects to their recipients so I can reveal them here.
As you can imagine, the grand prize excited a lot of interest and there were over 800 summer campers participating! In our Ravelry group, we were divided into "Cabins", smaller groups that allowed us to get to know each other and support each other through the tough tasks and projects. Our group, Cabin 3, became particularly cohesive and close and have stayed together pretty much throughout the whole of summer camp.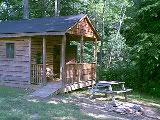 Cabin 3 - the "Night Owls" because we were the ones who stayed up late on the computer - started with list of about 53 people and had so much fun, new people wanted to join all summer! We had a group swap during each project - the first was a mini-swap ($12 cost limit), the second a stitchmarker swap, and the third (going on now) a full secret partner swap. We encouraged and cheered and supported each other's project efforts and talked about real life events. We posted and chatted almost every night.
During the first swap, my mini-swap box came from a new Camp Loopy friend who even included a loaf of home-baked marble cake (delicious):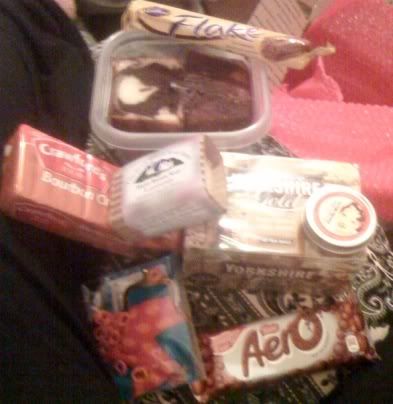 This swap happened during Project 1, which turned out beautifully. I'm currently wrapping it to send as a birthday gift so I won't be able to reveal it in this post, but soon.
Project 2's stitchmarker swap was a big hit too! Each person committed to sending a certain number of stitchmarkers with a summer camp theme and received that number back in return. I was in 4 groups but I have only 3 groups to show because my first swap set is in use for Project 3. The first swap set had a blue owl, a barn owl, a watermelon glass bead, a dragonfly, and a silver bumblebee. (
sorry for the fuzzy pictures
)
Set 2:
Set 3:
Set 4: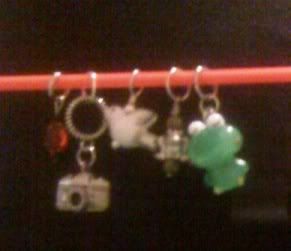 Project 2 was a cabled project and I had never done cables before (except crochet cables) so there was a big learning curve for me! My cabin-mates suggested
Bella's Mittens
as a pattern that was good to learn on, and I chose MadelineTosh Vintage yarn, a very soft and vibrant worsted weight.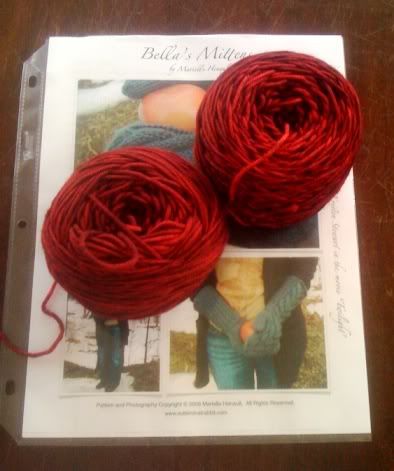 It turned out to be the perfect pattern for me to learn on and my finished pair came out beautifully!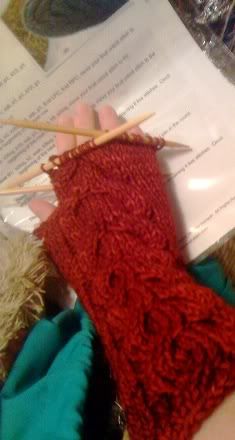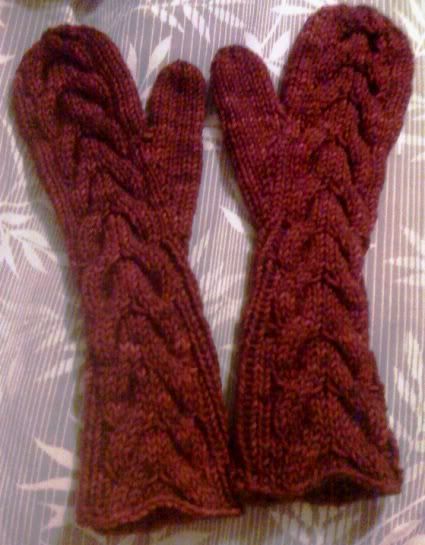 I was so thrilled to learn this new skill that I started a second pair - this time sized for a man's hand. This re-sizing of the pattern at the same time I was practicing my cables was tricky, but turned out okay: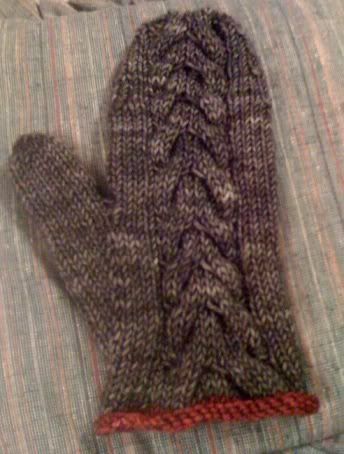 During Project 2 we also had a "Hiking in the Mountains" Camp Colourway contest for a new yarn to be dyed for The Loopy Ewe. Our group chose these colours and this inspiration:
We didn't win the prize, but The Loopy Ewe decided to have all the content entries made up into Camp Colourway yarns and they'll be available to purchase in the fall. I'll need to get one of each - they're all beautiful! You can see the inspiration pictures and descriptions
Here
.
I'm pretty excited about cables now and have purchased a few new cabled pattern projects to make for Christmas presents! I also chose a cable pattern for my Camp Loopy project 3!
Project 3 was any pattern that used at least 800 yards of yarn so I decided it was time to knit something for my boyfriend. On his birthday, I showed him the pattern and the yarn and promised him a new cabled vest in one month! I'm adapting the Mondo Cable Vest to be more manly and it is working out perfectly so far!
(this is the start of the vest and the cute barn owl stitchmarker from the swap)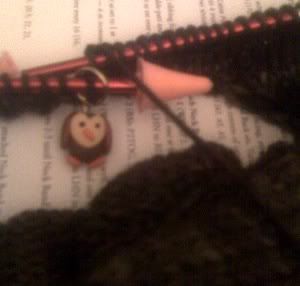 He tried it on last night and it not only fit perfectly, it looked great! I'm 60% done, with one cable repeat, the ribbed bottom border, and the back neck ribbing to finish. My big plan is to finish it this weekend - being a holiday weekend with no work on Monday.
I also packed and mailed my secret swap box yesterday - full of camp themed goodies and knitting things that I hope my swap partner will love! I tried to get all local items for the non-knitting things and was pretty successful.
So that's the story of my fun summer camp. I have a little less than 2 weeks to finish my project 3 and have had such great fun will all my cabin-mates. It will be hard leaving camp this year, but I've heard it's going to happen again next summer!