Today is sunny, if not warm, and we still have an inch or two of snow on the ground from yesterday's April Fool's blizzard, but it seems like a perfect day to catch up on my projects. I have a few to finish and several that are calling me to get started!
First in the queue is the little guy's Oh, Handsome in Pima Wool: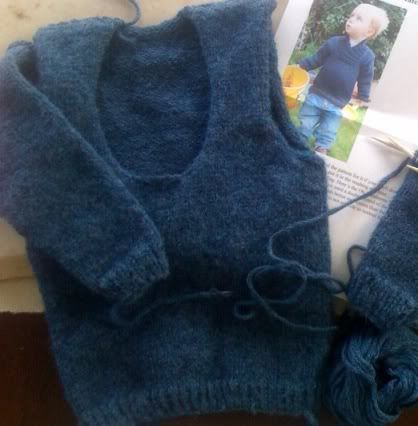 As you can see, I am so close to finished, with just half a sleeve and the collar (simple!) to go. I don't think I have to worry that it will get warm before I get it done, though! It should be completed this weekend and on the blocking mats.
Nest in line is a pretty little pink sweater for a friend's new baby. I think I'll use the same pattern I used for the little guy's Librarian sweater when he was newborn. On his sweater, I used grey yarn and made a line of swimming blue fish around the hem.... I'm looking forward to being creative with something girly.
For my spring plans, a close friend who lives in a warm climate asked me to make her a little shrug to wear in her highly air conditioned office. Her first choice was this little capelette from the new Debbie Bliss magazine:
It looks fast and easy and I found the colour in my favorite silk and mohair yarn (Kid Seta) so that's one I'll surely do. Others I'm considering - since it's so much fun to make these quick and easy knits - are...
The Shetland Shorty
by Gudrun Johnston (a free pattern on Knitty), and the yarn I'm considering is this Wool/Silk blend in a pretty rose colour, Mini Maiden from Hand Maiden Yarns:
and
Sagebrush
by Hanna Breatz (another free pattern) and this skein of Sea Silk in the gorgeous colourway, Peridot, also from Hand Maiden Yarns: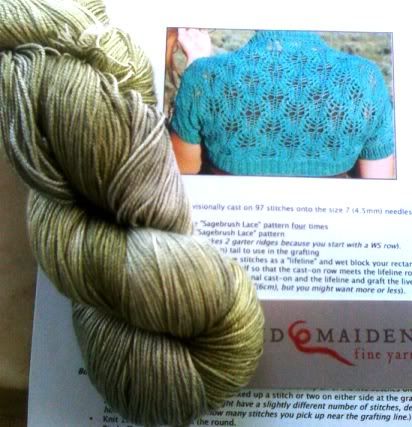 and believe it or not, I'm already planning my Christmas 2011 knitting! I want to make sweaters and I'm looking at some designs from:
Quince & Co
A Stitch in Time
Tiny Owl Knits
So much knitting, so little time!!