The final Spring baby sweater for the little guy is finished and I'm pretty pleased with the result!
This is the
Lazy Daisy Jacket
from
Pickles.no
, a great knitting blog for anyone with little ones. I know I've given this link more than once before, but it's just full of really cute and colourful patterns for kids and babies so I go back to it again and again.
Sweater Stats:
Size:
18 months - 22 inches under the arms; arm length from neck 14 inches; sweater length from neck to bottom 12 inches
Needle size
: US 6 circular
Yarn:
E. Lavold Baby Llama (109 yds) from the Lamb Shoppe in Denver, Colorado
A) Colour 024 Sand 4 balls (and I used every bit)
B) Colour 027 Flaming Red 1 ball
C) Colour 025 Dark Brown 1 ball
D) Colour 031 Warm Blue 1 ball
E) Colour 028 Cloudberry 1 ball (this is the yellow colour)
One thing I've found about Pickle's patterns is that the sleeve constructions are often pretty complicated and usually require lots of piecing together and/or seaming. I plan to make this sweater again, but I'll modify it to be top-down and seamless, which is pretty easy to do. I'll post the modifications when that happens.
You'll notice right away that the design of the coloured part of my version doesn't look like the original pattern. That's because I put my daisies on the inside! I like the inside of the pattern stitch better but the sweater is perfectly reversible and this is what it looks like with Daisy Stitch the way it's meant to be seen:
My other modifications include more rows around the neck to make the shawl collar more prominent - and I used short rows instead of cutting the yarn and piecing the collar as called for in the pattern; and ribbing on the cuffs and the waist. I wanted this sweater to have a long useful life - and sleeve cuffs can be rolled up and then down as the little guy grows.
My buttons: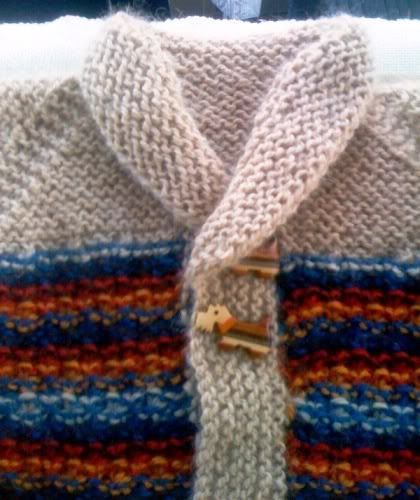 The little guy loves dogs! As you can see, I only put two buttons at the top, thinking this would be the way he'd wear it most times - just a quick fasten and we're good to go! But now I'm thinking that maybe I should use some little beige buttons down the front; they won't show, but the sweater could be completely closed. I don't know, what do you think?
Finally, I'd like to send a BIG thank you to the ladies at the
Lamb Shoppe
in Denver who were knitting beautiful patterned mittens from Piecework magazine while I was there and took the time to help me think through my sweater yarn and colours and generally encouraged me! Kindness to knitting strangers is a gift that just keeps paying forward.