A little while ago, when the last knitted gift had been given, I told you that I was going to embark on three "transitional projects". The concept of transitional projects were introduced to me by my friend Briley - they are little things that are fast and gratifying to make; they tide you over from the creative doldrums into more inspired and complicated designs. I've been successfully using this tip since he mentioned it.
Here are my New Year transitional knits:
The first, is the
helmet hat out of Noro Kochoran
, which is very soft because of the bit of angora in the yarn: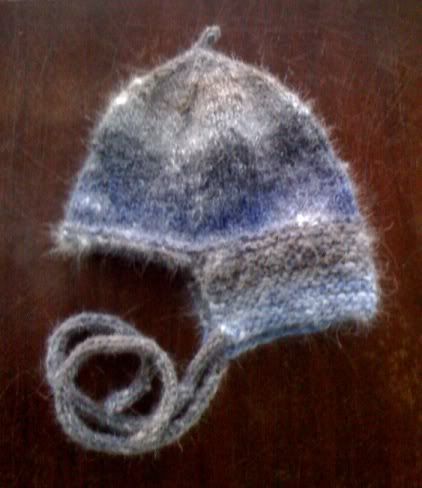 And the second is the "
raglan-sleeved cardigan with a patterned yoke
" from the DROPS pattern website.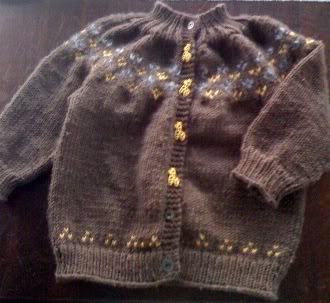 I made this in a nice teddy-bear brown with yellow and light blue snowflakes - from Debbie Bliss Rialto DK, a superwash Merino wool. The sweater in 12 - 18 mo size took 3.5 balls of the brown and just a bit of the yellow and blue. I used leftover bits of the Kochoran yarn for the blue, actually.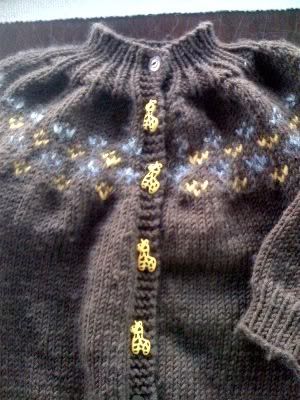 Both yarns came from my LYS and I got the buttons at the same time. Sadly, there were only four that matched, so I supplemented with some vintage brown abalone shell flat buttons from Gram's button box. I think they are fine, and those buttons probably won't be much used anyway.
The cardigan is extra long - more of a sweater jacket than an indoor sweater - and will fit probably through 2 years and beyond. The pattern itself had a turtleneck, folded over, but I can remember hating tight things around my neck when I was young, so I left it as a shorter, very stretchy standup collar, that will likely be worn open, with only the giraffes buttoned closed.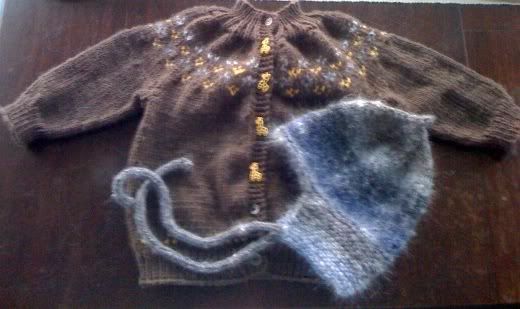 Now that these are done, I'm in the middle of the cutest ribbed toddler pants, using Blue Moon fiber Arts Sock Candy - which is a beautifully soft cotton with just a little stretch in it. The colourway is "Spike" and it's striping up so perfectly! Grey and black, and orange-red... I'll come back and post a picture when I get a chance.
All of this is priming my creativity for bigger things. But that's a post for another day.