My knitted gifts were all well received this Christmas:
Walkies??
I have two favorites that I haven't shown you yet. One is an original pattern that I designed using Blue Moon Fiber Arts Luscious Single Silk in two vibrant colourways. I want to wait to show you that until I have the pattern written up and I've done one more test knit.
But my other favorite is this: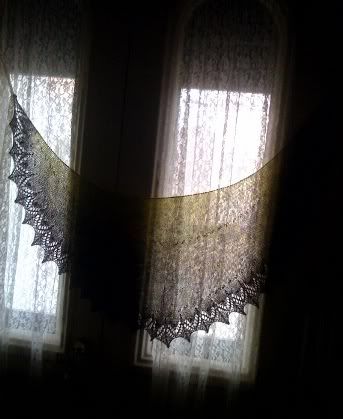 Annis
My version is made from FibroFibers
Nightfall Yarn
in the Ivy colourway.
Blocking: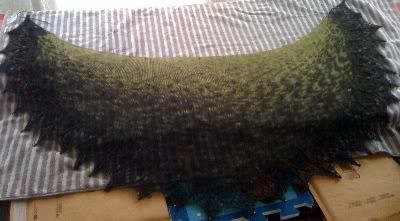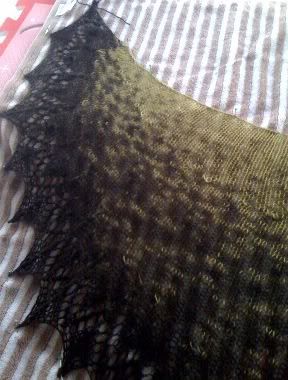 As you can see, Nightfall yarn is gradient-dyed, so that the colours go gradually into black...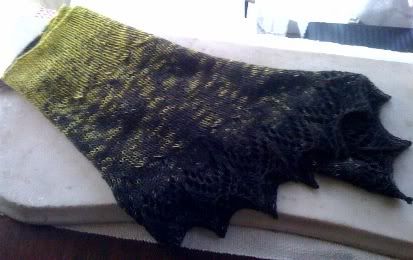 I assumed that the colour and the black would be blended from one to the other, the way that Blue Moon Fiber Arts colours are when they are mixed - where the two colours touch, a new hue is born. In other words, the mix magic happens. So I thought the lace would go from deepest black to dusk, to a greenish grey, to a light green, to a deep green. But Nightfall yarns are dyed in gradually increasing numbers of black patches, so that the illusion of gradually fading to black is created when you view the garment from a distance, but close up it looks a bit patchy. Not unpleasant by any means, but unexpected: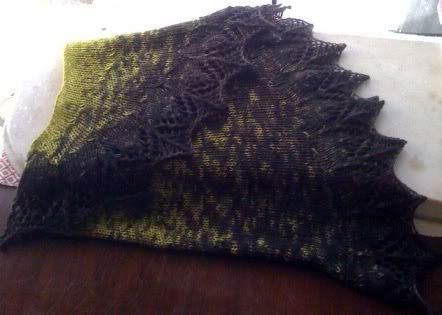 Annis is a lovely pattern, with lace edges...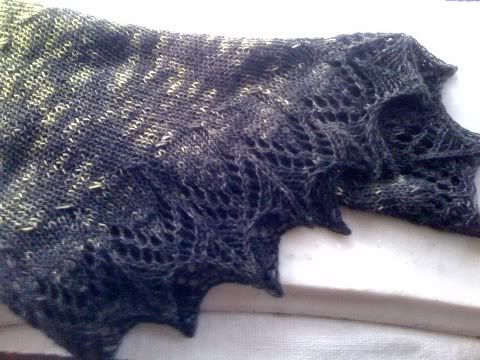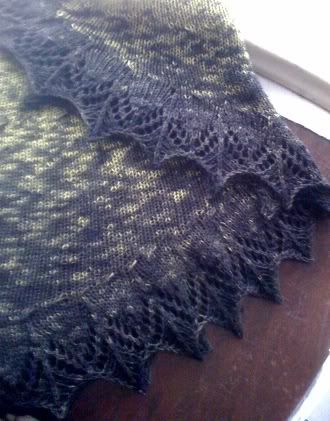 I made this one double wide by going through the chart twice. It created almost-noticeable decreases, where in the original size the neck edge would have covered them...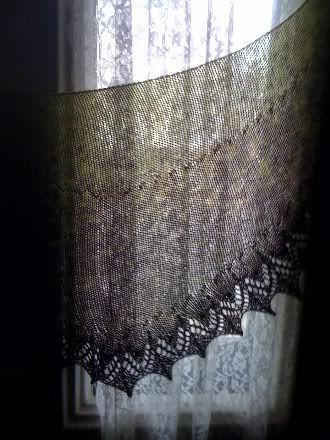 In my version, I think the colour changes helped to disguise the short-row decreased a tiny bit: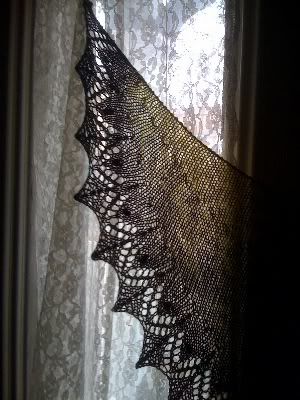 This made a light delicate scarf - not wide enough for a true shawl but wide and long enough to drape around the neck twice. I have it on good authority that it is fun to wear: the recipient has had it on since opening it!