Remember the String Beans, from the knitting zine?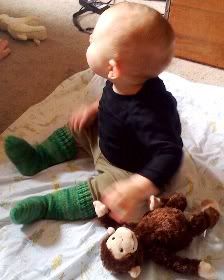 I made another pair!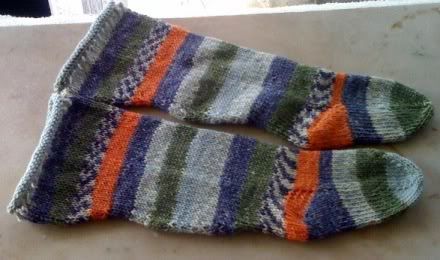 This time, they are made from light fingering weight in self-patterning yarn. This is a skein that my friend Nad sent me from Germany a few years ago. This skein goes on forever! I made a pair of socks for myself out of it. I used it for a winter hat, mixed with some jaunty tangerine wool. And now it makes a pair of baby knee socks! and... there is a whole lot left (which I am sending to a Ravelry friend).
But, back to the Stripey String Beans:
You can see that in this pair, I made a little modification - a rolled cuff! I love this tiny detail... Even though these socks don't look vintage with their modern colourful striped yarn, the rolled edge is so very ancient! (and perfect for holding up with garters). In fact, in my late 1800s and early 1900's pattern books, many - or most - of the baby shirts have little knitted garters attatched to the bottom hem. These were actually supposed to tie through or button to buttonholes in leggings (the trouser type of leggings, with or without feet, not the half-a-sock type leggings of the 80's), which had two holes in the front and one in the middle of the back waistband for this purpose.
But, you could use them for thigh high stockings too! Many baby socks were made extra long, and in this modified pair of String Neams, and my saffron Carrot Sticks pattern, I have a row of tiny buttonholes for potential, imaginary, perhaps-future baby garters.