Remember these? My
Once in a Blue Moon Cast On
socks started on the second full moon of December 2009?
They are now these:
Whew! I can't believe it took me so long to finish these! They were at the bottom of my knitting bag, only brought out between other projects - not the way to get your socks done!
But yesterday was my birthday, and my boyfriend had given me such a wonderful day I was determined to finish these up and give him a present too! He loves them, and happily posed for pictures.
The stats:
yarn:
1 skein Socks That Rock mediumweight fingering (had a few yards left over)
size:
men's 9
needles:
started toes with size 0 DPNs and finished the remainder on size 3 DPNs
pattern:
my own. These are toe-up, with Lucy Neetby's toe cast on and an adapted increase/decrease heel. The stitch pattern is an easy one - and may be my favorite rib pattern:
Row 1: K2, P2
Row 2: K all
This rib doesn't scrunch up but is nicely snug and looks good. The bf said that to him, it looked "Celtic".
The bad news - the heel!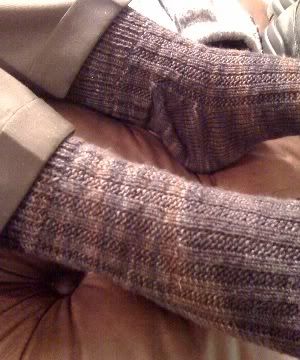 Even though I measured and re-measured, the foot turned out too long on both feet, so the heel is sloppy. You can see the extra fabric bunched on the sides. The good news is that the bf says they aren't too big and are very comfortable (he's wearing them with shoes today and the report is positive). He pulls them up so the heels are tight:
It's not too bad, and I think (hope) that when they're washed they'll tightened up a little bit. Next time I'll make them tighter. Can you believe that these are the first socks I've made for him? I think there will definitely be more!