After watching me knit every minute of every day for the Holidays, my boyfriend asked me to make some things for him. Backstory - I haven't made him anything for a long time, because the first things I made him, he promptly lost, giving the impression that he didn't like them all that much. He also often makes comments about only liking the most complicated types of knits: lots of cables, fair isle, traditional British type knits and the like. I relented, though, and I promised him that January would be the "Month of Boyfriend Knitting" and I'm trying to get 3 things finished for him during that time:
Dog walking mitts
Socks
Vest
I did finish the dog-walking mitts (my own pattern). They are made with a yarn he chose himself from a not-so-local alpaca farm:
They didn't turn out as well as I had hoped, being a bit big, but I think they're useful anyway.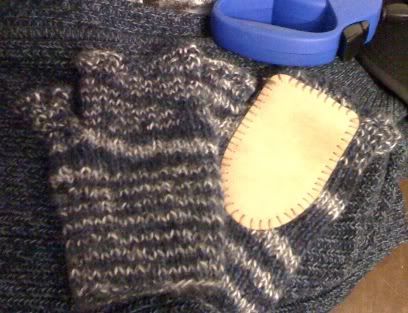 They're not working as dog-walking gloves because the alpaca is so soft that the dog treats stick to it and he ends up either dropping them or having the dogs bite the glove to get them off. Dog walking mitts should be made with a sturdy strong fiber, like sock yarn. I'm also bemused with the way yarn patterned. I could have frogged and started over to try to get a better match, but they are kind of cute as is, so I left them.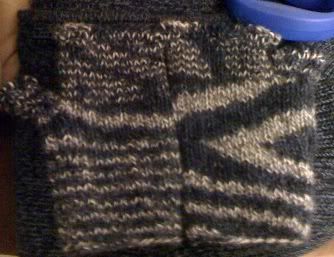 I plan to make him a hat from the leftover yarn but probably not until after I finish the 3 things I've promised.
I'm currently on the second item - socks. I do love knitting socks and am doing this, like the mitts, without a pattern - my own design. I'm up to the heel now, but this is what the beginning (toe) looked like:
The yarn is Blue Moon Fiber Arts Socks That Rock in mediumweight; colour - Obsidian. I started the toe on size 1 needles to make it extra durable, and am knitting the rest of the sock on size 2 needles.
I'm trying a couple of things to personalize these socks: my boyfriend has sensitive feet but is very hard on socks. I'm doing the bottom of the heel (the sole side) in reverse stockinette in an attempt to make it more durable and to be very smooth and comfortable on the inside, and I'm doing the back of the heel in a sturdier textured knit where it will rub against his shoes.
He tried the foot on last night and said they felt very good. I'm really hoping these will be more successful than the gloves. I did get a bit worried when I was telling him how to wash them (machine wash, no dryer) and he said "they're just socks". A discussion ensued about how hand-knitted socks are never 'just socks' and he appeared to take this conversation seriously. ;)
The last item, the vest, is going to be knit from a Rowan pattern out of a tweedy yarn from a different alapaca farm:
Keeping my fingers crossed that I reach my goals because the month of february will be devoted to the Ravelympics on Team Blue Moon!