WARNING - This post is VERY Picture-heavy! If you have a slow connection, it might take forever to load...
Day two on the sewing front... yesterday evening I stopped after basting the pieces together. I found out this morning that the bias cut had caused one of the godets to hang lower than the other. There was nothing wrong with the cut, I just needed to take the basting out, let both pieces hang naturally and baste them together again. They fit perfectly after that:
Now it was finally time to sew!
See the pretty silk thread winding on it's bobbin? I like to use silk thread with silk, although some people say to use cotton so the seams are sturdy. I like the lightness of the silk thread, especially with a bias gown.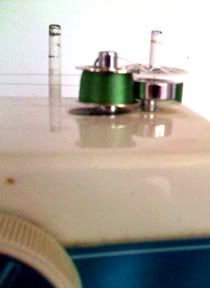 Sometimes I just don't have the right tool for the job and have to improvise. Here I am using the spool-holder of a weaving shuttle to turn the tiny thin straps right side out: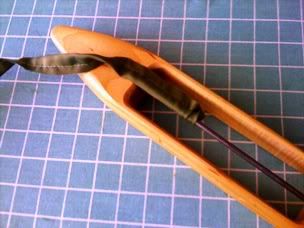 Do you like mysteries? What's This????
Surprise! It's a zipper! An
invisible
zipper!
The godets are sewn in - what a lot of skirt!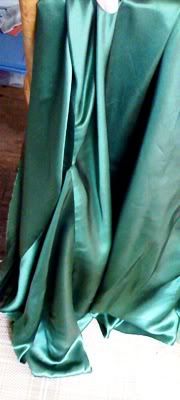 Back downstairs now, to place and baste the bodice to the skirt and back upstairs to sew it:
Then...the really scary part!
Here I am with the center cut of the bodice. This is what will form that lovely wide shoulder-bone-to-shoulder-bone V neckline... I placed my handmade tissue pattern, with the cut marked, back over the bodice and basted the cut line with ling running stitches. Then, I gently pulled the tissue away, leaving the stitches in place on the silk...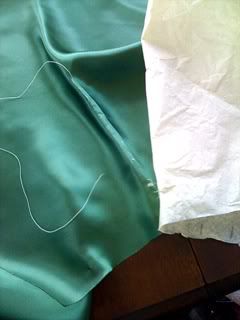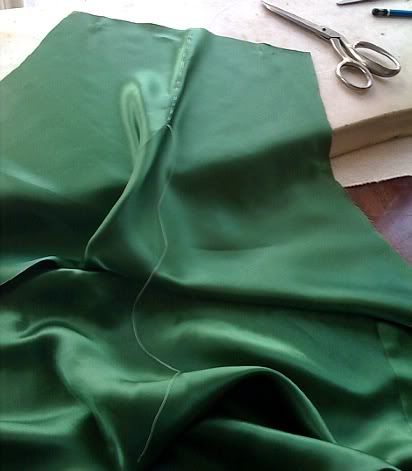 (cue the theme music from JAWS)... here come the scissors! Oh noes!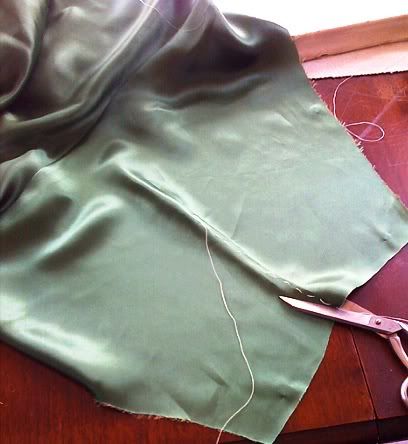 The cut is made - 6.5 inched from the hollow of the throat. There's no turning back now!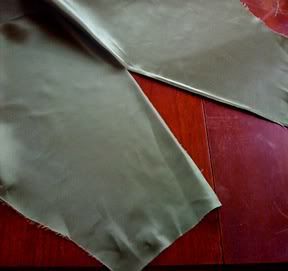 The next step was to place the straps against the bodice to drape it and figure out how it would actually come together. It's starting to look more like a real gown now...
All of the hems must be hand rolled - the neckline, the arm and back edges, and the wide, wide, wide, wide hem. I couldn't get back far enough to take a picture of the entire hem at once, because with the front, the two back sides, the two godets, and the back train it is about
six yards
around...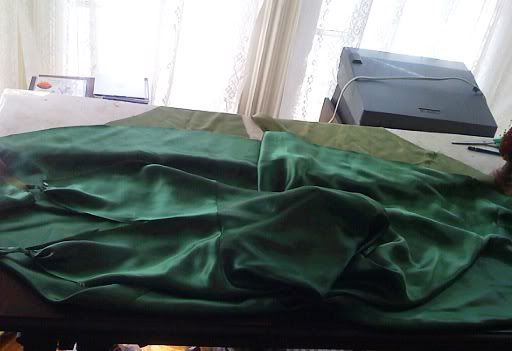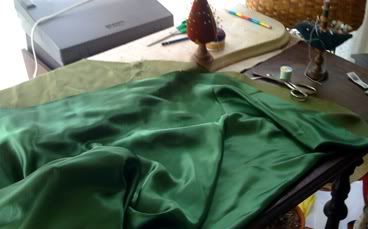 I think I will hem this on the plane! (it's a long flight)
Tomorrow: finishing the bodice and neckline, designing and setting the train godet, and starting the drapey waist sash...