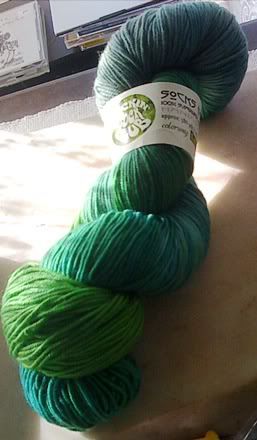 Some time ago (a little over a year) I got this skein of yarn through the Blue Moon Fiber Arts Sock Club. It's called "LUCKY" and is a beautiful melange of shamrock, jade, bottle, leaf, and Kelly greens. I'm sorry to admit that I didn't appreciate it when I first received it in the mail, and Tina, the wonderful dyer and colour artist from BMFA, offered to exchange it for a skein that was a little less "lucky". But I couldn't part with it, and now I'm glad!
Just this week, it's been decided that the wedding will be a green wedding. Green is lucky in so many ways, and is a favourite colour for all concerned. So, I'm using this skein to make another wedding tie - a Lucky Tie for a Lucky Guy...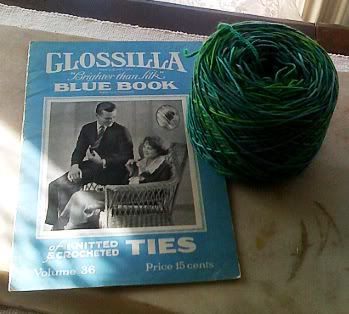 The pattern is from a 1921 Bear Brand Glossilla booklet. Glossilla was a substitute for silk. I'm using fingering weight wool and it's coming out beautifully. The wedding dress is from a 1930's pattern (yes, I'm making the wedding dress, too!) so having Mr. Lucky in a 1920's tie would be great! I don't know if he'll wear it, but I want to make it anyway....
I am having to re-write the pattern for this, but I am using the stitch indicated. I'll give more details when it's all finished Right now, so much is happening at once - including organizing a honeymoon in Buenos Aires!