It began with an idea... a vision of a 1930's silk, bias cut gown....
It took 2 hours on this dark, rainy Thursday morning to design and draft the bodice pattern...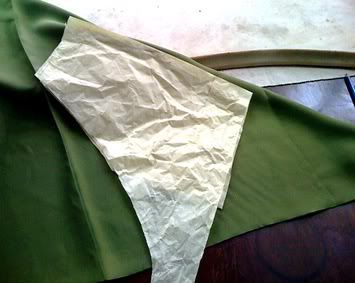 and then to place and cut it on the bias...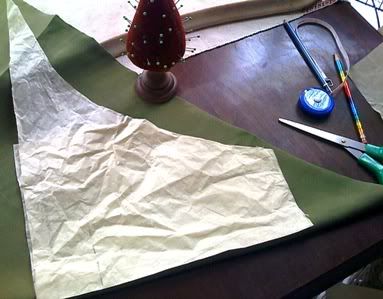 But the gown front was even more complicated and required a newly drawn pattern of it's own. Also on the bias, it needed extra wide seams and an extra inch of ease on either side to make up for the bias downward drape...it has a slightly raised curved top edge, a shaped waist and a wide flared skirt.
The back was next... and it was mid afternoon. I used the back piece of an actual 1930's gown for this, but with adaptations: an extra 10 inches of length, including a curved back train, and more flare in the skirt, and a seam up the back.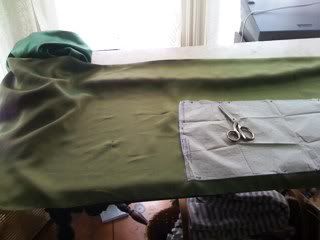 The side godets needed lengthening too. By this time Jule had called and since a friend was over helping her move, she was able to get to some accurate full length measurements (sigh of relief...).
Godets are cut, with an extra wide circular hem...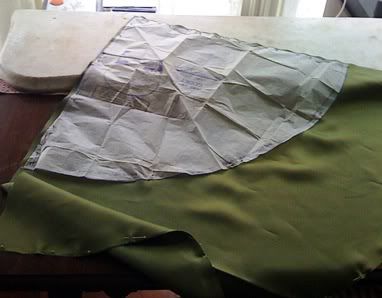 It's important with bias cut silk, to press the material right after cutting. This helps prevent further stretching of the bias and it 'sets' the drape somewhat. The silk pressed beautifully and slipped through my fingers like jade tinted water.
Finally, I had it all together: the bodice, the bias front, the two side backs, the two side godets, the thin shoulder straps, and a set aside back godet with train...
My final step today from four until the sun went down at 8 pm and all light faded from the bow window in the front room, was to baste all the pieces together by hand to make sure it all eased in together just right!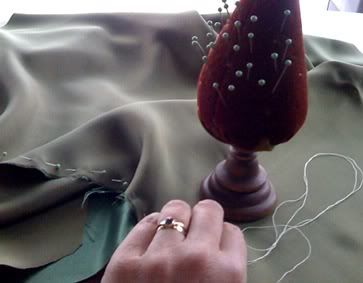 I was tired! Tomorrow I sew. Wish me luck!
Last night I finished blocking the Lucky Guy tie. Blocking really gave it a nice polished look and drape. I love it!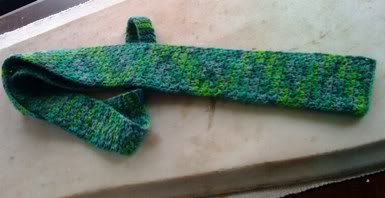 I love the bright green zig zag down the front. I can't decide if it looks like argyle or a snake!