Today was my day to go to the Knit & Crochet Show at the Center of New Hampshire. I took the day off from work and my friend Lori and I got an early start. You already know that I like to arrive early and wait for the doors to open!
We were very excited, even though we hadn't been able to get into any of the classes we wanted. It is still a fun adventure to wander the vendor booths viewing yarn and accessories that you've only read about...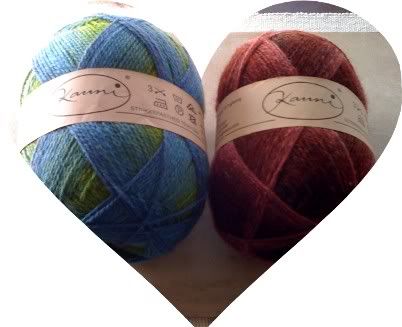 While we were waiting, we ran into CrochetKim (right) and her friend, both sporting her original designs:
There seemed to be fewer vendors this year - at least on Friday. I have a feeling that all of them will be showing on Saturday; they probably figure that's when the hordes will arive. And they may be right, because - after all - the
Ravelry
meet-up is Saturday! So why did I go on Friday? I am a quiet person, much happier in small groups than in crowds. The slower day suits me much better!
The Elegant Ewe was there, with Marci in a lovely crochet t-shirt doing her part! They were so mobbed with people, I never got to go back and say goodbye.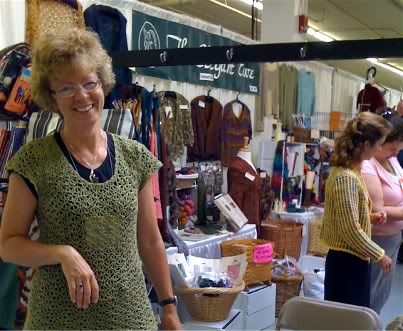 I also found a Yarn Dyer from Derry,
Sereknity Sock Yarns
, who had a line of Green Monster yarns honoring the Boston Red Socks and their monster green wall behind the open-air ball field!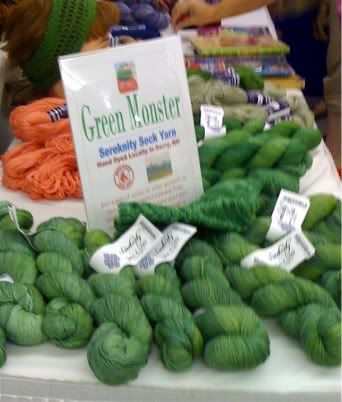 We spent a good hour at the Russian Lace Knitting booth, chatting with the globe-trotting proprieter and admiring the delicate yarns and lace models. They had Quivit and Buffalo down, and cashmere cobweb-weight in a rainbow of natural colours. I didn't splurge on any of those, but didn't leave the booth empty-handed either!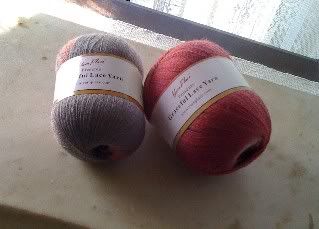 We saw some interesting sights that I didn't capture on my camera, like the fashion show, but I did manage to snap the lady who was trying out the giant needles!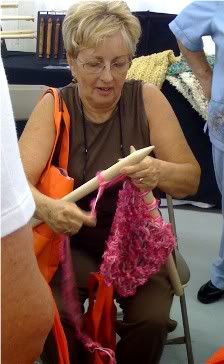 After that, I had to settle down with some Dream in Color
Smooshy
sock yarn - in Butter Peeps and Lipstick Lava. This yarn really is as soft and smooshy as people say! Of course it is, it's Australian Merino!!!!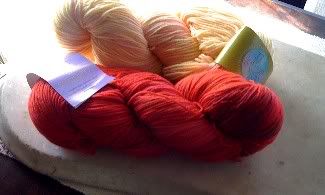 The next booth that claimed an hour of our time was the Habu vendor!
I can't help it, I love Habu. I love the teensy little folded balls that bloom into full size skeins in a myriad of harmonious shades. I love the natural and amazingly not-so-natural fibers and materials that are somehow spun into knitable threads. I love the surprising unexpectedness of it - the stainless steel mixed with silk, the pineapple fiber dyed dark blood red, the slubby silk with bits of cocoon interspersed at odd intervals... I didn't escape without major budget-breakage:
from left to right, top row:
Rosey copper Pure linen, a crinkly natural paper thin pure silk, pineapple plant fiber - blood red
from left to right, bottom row:
Light green cashmere, mid-green cashmere, red-red 100% stiff cotton (unmercerized), turquoise 100% softest cotton; goldish bamboo, gold very fine silk
My plans are to put the rosey copper linen and the crinkly natural silk together, the blood red pineapple fiber and the stiff red-red cotton together (washy towels), the gold bamboo and the gold silk with go together, and the two colours of cashmere will be opposite ends of the same lace scarf. The soft cotton will be on its own and I hope that I have enough for a little something sweet.
I am a very tired and happy knitter. <3