I am a late bloomer. There is no way around it, it takes me longer to step out and open up than most people. Still, I think late summer blossoms are just as nice, don't you?
Nadine sent me a Big Red Box yesterday! Oh, the exotic and beautiful things that were inside, that had traveled across the ocean.... so many, including a CD I have playing right now: "
Schokolade"
Its all about chocolate but its instrumental and the music and is incredibly soft and soothing! I love it.
And Snake Poison sock yarn! (I think I will have to use Nadine's own pattern that I meantioned before - she created such a perfect one for this particular colour combination).
And more sock yarn! soft blue, soft green.....I will find a "little flowers" pattern for that I think. The pretty subtle colours remind me of forget-me-nots.
and Tea, and Stitch markers, and Gryffindor yarn(!), and Podcasts (oh my!), and, and, Oh...all the things that make a knitter go
"yes, this is a wonderful world, isn't it?"
But best of all...and so wonderful that I actually just held this skein for the longest time, just looking and gazing at all the blending of colours... was another skein of Tausendschon (http://www.strickstduschon.de/) sock yarn called
Black Rose
. It looked
exactly
like this: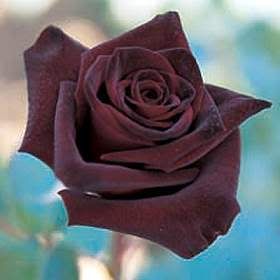 Absolutely the truth! All the colours are there: deep red, blood purple, burgundy, a subtle flash of darkest purplish peach, more red and goldish red.... This colour combination (hand dyed) is pure inspiration! The skein I have doesn't look like the skein on the webpage, which appears more multi-coloured. Mine is all variations on the dark red theme, just like the rose above.
I've alread decided that I'm going to design a special sock for this yarn, perhaps using some of the elements of this image, which I've made into a knitting graph: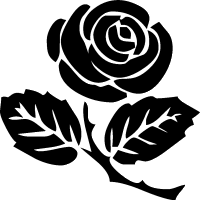 They will be knee socks, and the knitted roses won't neglect to show their thorns...When I wear these socks, I'll feel beautiful and blooming, no matter if summer has passed.